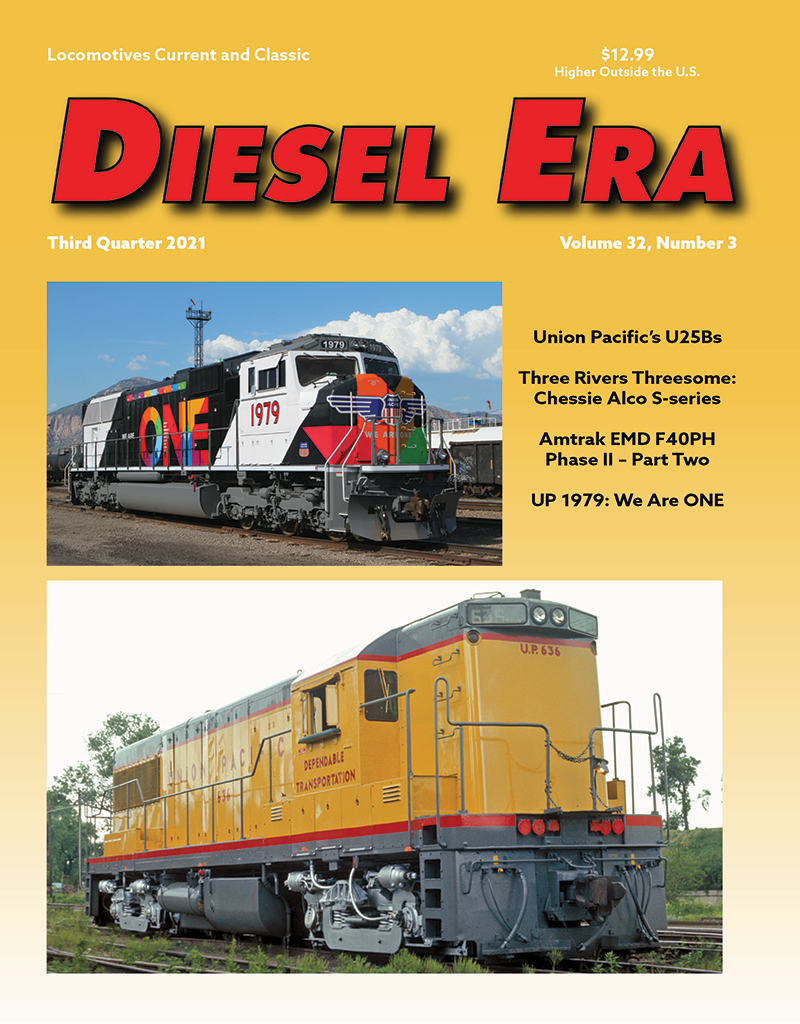 Diesel Era Third Quarter 2021
Features:
General Electric's Landmark U25B Union Pacific • Union Pacific's collection of four-axle U25Bs wasn't large but included good variety and variations among the roster members.
Three Rivers Threesome: B&O 9007, 9009, and 9010 • by Gordon Lloyd, Jr. — Gordon Lloyd, Jr., shares images and information of Alco end-cab switchers painted in Chessie System livery in the 1970s.
A Brief Browse Through B&O Alco S-series Switchers • by Gordon Lloyd, Jr. and Tony Cook — Inspired by the Chessie System painted units presented by Gordon Lloyd, Jr., Tony Cook provides an overview of Baltimore & Ohio S-series switchers.
Amtrak's Phase II F40PH Fleet Part Two: 273–315 • The second of a three-part series goes number-by-number through Amtrak's four-axle EMD F40PH diesel locomotives, focusing on the mid-production or Phase II bodies.
Union Pacific 1979: ONE • by James Belmont — James Belmont presents an all-around look at newly repainted UP 4332, now UP 1979, decorated for the road's "We Are ONE" program.
Departments:
Freight Car Classics
Rail News
---