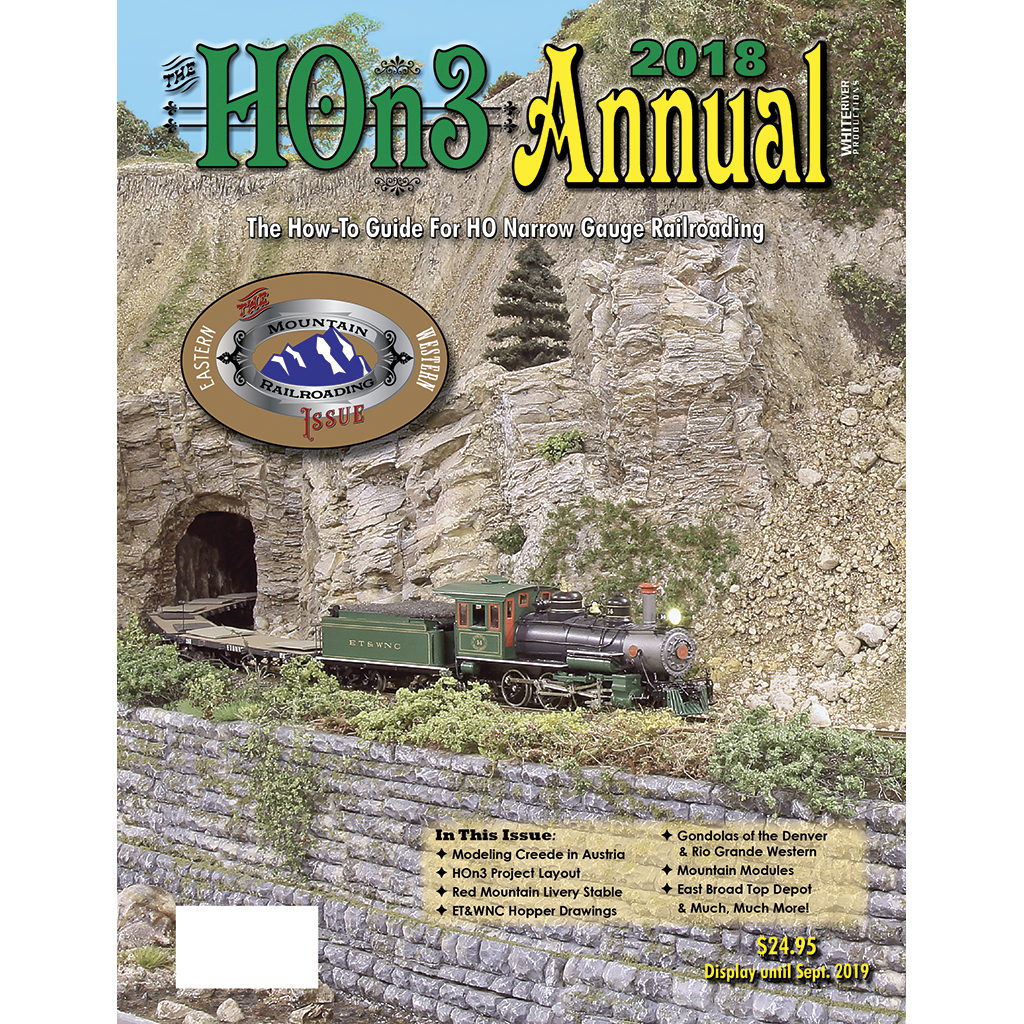 HOn3 Annual 2018
HOn3 is all about building narrow gauge trains and layouts, and the 2018 HO3 Annual is the only publication exclusively dedicated to HOn3 narrow gauge model railroading! Our 10th annual edition is packed full of exciting layout tours, in-depth construction projects, and plenty of detailed prototype information, sure to keep your workbench full all year. From California to Maine, and all points between, get on board for narrow gauge fun!
Features
When We Die • by Chris Lane — Narrow-minded notes: thoughts on our legacy.
Into the San Juans • by Kevin Kussow — Recreating 1890s Colorado.
East Tennessee & Western North Carolina Railroad Hoppers Nos. 47 and 48 • by Brad Slone — Brief hopper history and rolling stock drawings.
Bash Prefab HOn3 Point Turnouts into a 3-Way Stub Turnout • by Bob Brendle
Building Better Gons • by Stan Rhine — The venerable Rio Grande gon examined.
You've Got (Model) Mail! • by Sam Swanson — Special delivery of an obvious and overlooked detail.
It's The Little Things • by Duane Richardson — Contest judge shares tricks for better models.
Creede Diorama… Made In Austria • by Peter Metzker — Modeling the Rockies in the Alps.
Building the East Broad Top's Orbisonia Station • by Russ Norris — Who needs a kit?
Modern Operating Practices • by Mike May — Integrating operations on the HOn3 White Pass.
Narrow Gauge Modeling in 3D • by Johnny Graybeal and William T. Miller — A 2018 update.
Ferrocarril de Isla • by John Ehresmann — Modeling an island railway.
Red Mountain Livery Stable • by L. Todd Leftwich — Research and scratchbuilding recreate the past.
Near Sighted Narrow Gaugers • by Duncan Harvey — Developments on the portable layout.
From Mine to Market • by Johnny Graybeal — Mining and hopper cars on the ET&WNC.
The Caboose Project Layout • by Chris Lane — Building the HOn3 Bear Creek Railway, part 1.
The Circle Tour, Part 4 • by George Riley, Esq. — Taking the siding.
Destination: Roan Mountain • by Geoff Stunkard — Modeling the ET&WNC at the Carter Museum.
HOn3 Product Spotlight • by HOn3 staff — New releases for 2018-2019.
---