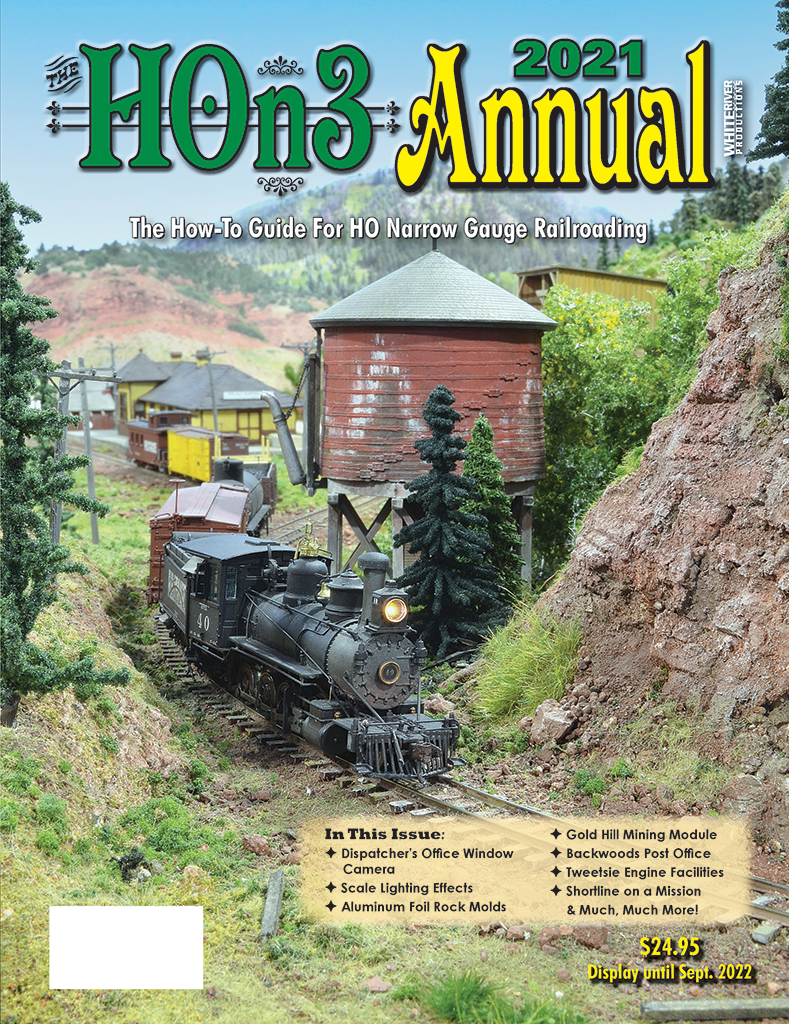 HOn3 Annual 2021
Price good through November 30, 2021. Regular price $24.95 plus shipping.
HOn3 is all about building narrow gauge trains and layouts. The 2021 HOn3 Annual is the only publication exclusively dedicated to HOn3 narrow gauge model railroading! Now in its 13th year, this issue is packed full of exciting layout tours, in-depth construction projects, and plenty of detailed prototype information. It's sure to keep your workbench full all year. From California to Maine and all points between, get on board for narrow gauge fun.
Features
Narrow-Minded Notes • by Chris Lane — National Narrow Gauge Convention Wrap Up
Scale Illumination Part 2 • by John Niemeyer and Keith Pashina — More LED Lighting Projects.
Better-Looking Commercial Track • by Dave Vollmer — Better Appearance than Hand Laid?
Old Signs on Old Walls • by Peter Metzker — Creating and Adding Signage to Model Structures
Short Line on a Mission • by Matt Woods — Diorama of Michigan's Old Mission Peninsula.
The Gold Hill Project • by George G. Riley, Esq. — "A Square-Footer" Micro Layout.
A Room With a View • by Dean Smith — A Window for the Vida Division's Dispatcher.
Tin Foil Rocks, Stone Portals, and Walls • by Bob Brendle — We Will Rock You Parts 1 and 2
Converting HO Locos to HOn3 • by Rich Mossholder — A Kato Mechanism is the Start.
Building a Post Driver Wagon • by Sam Swanson — When No One Makes an HO Posthole Digger.
Build an Autocar White Metal Kit • by L. Todd Leftwich — "Old School" kits and How to Kitbash, and Paint them.
Switching In/To HOn3 • by Bob Bennett — Diorama Update and a New Business.
Embracing 3D Printing • by Mike Mackey
Iron Horse Sense • by Geoff Stunkard — Feeding and Caring of the Tweetsie Stable.
Otter Creek & Rio Grande • by Dennis Carrell — A John Allen-Inspired Timesaver Layout.
Scratchbuild a 24-Foot Boxcar • by Dale Smith — Early 1930s Boxcar From an Obscure Iowa Line.
Work Crane Kitbash • by Duane Richardson — A New Use for the AHM Barnhart Log Loader.
The Venado Post Office • by Rich Mossholder — An HO Scale Interpretive Mode.
Colorado in Switzerland • by Peter Gloor — Revisiting the AMORS HOn3 Modular Group.
East Tennessee & Western North Carolina Railroad Scenery and Structures • by Johnny Graybeal — Some Unique Features of the Prototype.
---