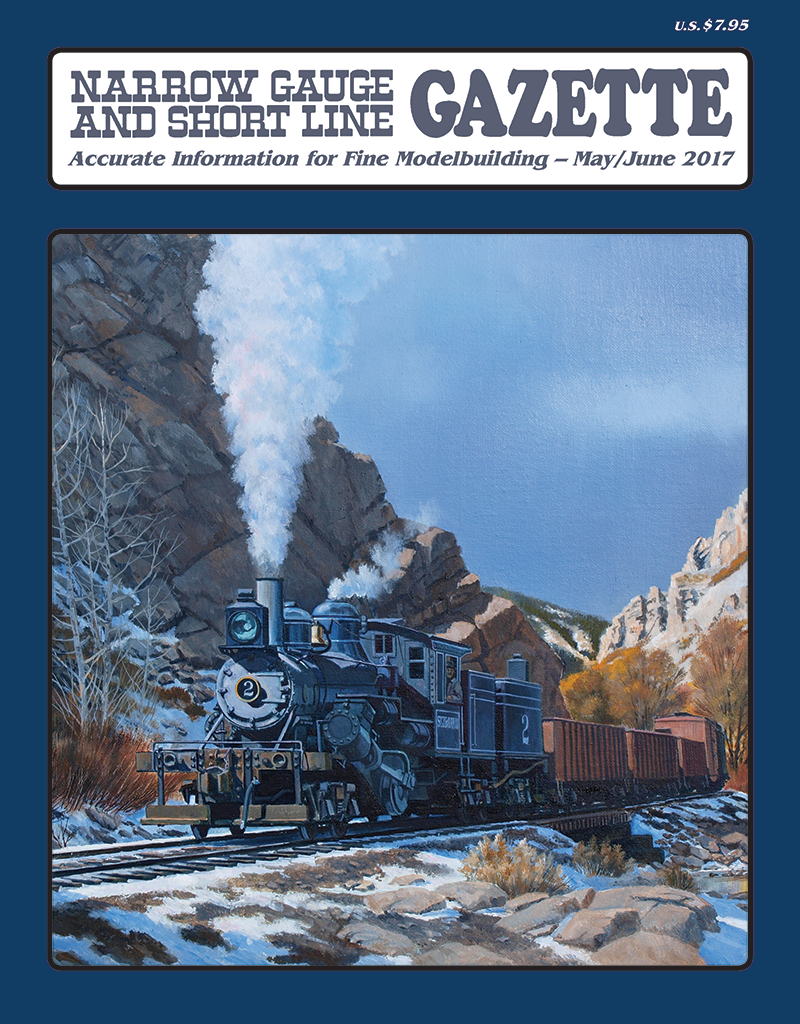 Narrow Gauge and Short Line Gazette May/June 2017
Features
Our On30 Soggy Bottom & Deep Cut Railway, Navigation & Cartage Company • by Bill Brubach — A display layout.
The O Scale Swamp Gator Hotel • by Brian Block, MMR — Unusual.
My HOn3 Alistair Road • by Peter Vassallo — A California narrow gauge.
An On30 Logging Rail Car • by Allen Littlefield — Logging scooter.
Along the Narrow Gauge • by Mallory Hope Ferrell — My historic photo album: The East Broad Top, part 1.
Early East Broad Top Hopper Cars • by Mallory Hope Ferrell — A sidebar.
The On30 Fiddletown & Copperopolis • by Bill Gould — An uncommon carrier, part 2: bench work, track and electrical, starting the scenery.
Brass Bashing Tool & Supply Roundup • by Craig Symington, MMR — Necessities.
More on One Last Little Spot • by Jim Vail, MMR — The Boulder Creek branch again.
The Narrow Gauge Scene • by Charlie Getz — Denver to-do list.
Plans
Colorado & Southern Railway NarrowGauge 30 Ft. "Peninsular" Coal Car #4915 • by Robert Stears
Arcade Depot, South Pacific Coast Railroad,San Jose, California • by Gary Caviglia
East Broad Top Railroad & Coal Company#1, Edward Roberts • by David Fletcher
The House at 44 Main St.,Jefferson, Colorado • by Jeff Young
The Johl House, Bodie, California • by Neil A. Pfafman
Departments
Robert's Ramblings • by Bob Brown
Pigeon Hole — Letters to the editor.
In Brief — Small announcements, new items, and corrections.
New in Review — Model reviews.
Book Reviews
---