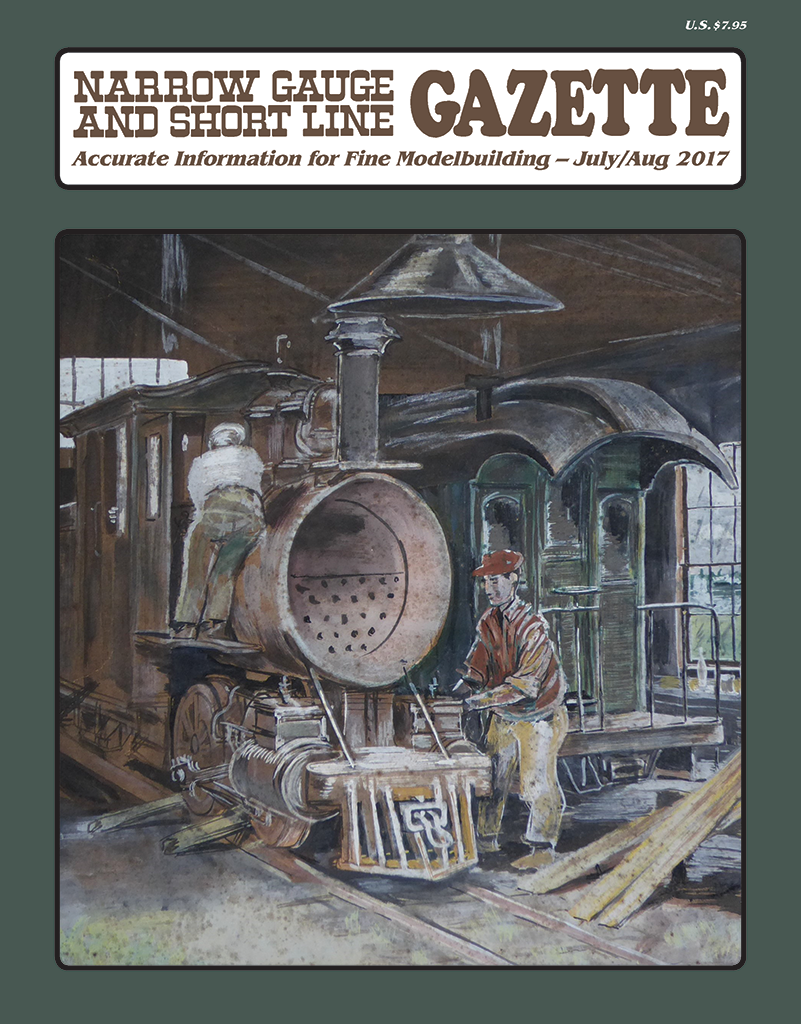 Narrow Gauge and Short Line Gazette July/August 2017
Special Feature
Sausalito to Duncan's Mills • by Duncan McRee — An On30 dead rail module.
Features
Rio Grande Southern Cabooses Go Digital • by Bill Busacca — Adding LED marker lights.
A Shipment for the Argo Mill, Part 1 • by Dan Windolph — A flatcar and the ore chutes.
Ron Keiser's Cascade & Silverton Railroad • by Chris Lane — An indoor 1:20.3-scale narrow gauge layout.
Workin' on the Railroad • by Ken Schei — My On3 Calumet & Hecla Railroad.
Along the Narrow Gauge • by Mallory Hope Ferrell — My historic photo album: the East Broad Top, part 2.
Colorado Connection • by Mallory Hope Ferrell — A sidebar.
The On30 Fiddletown & Copperopolis • by Bill Gould — An uncommon carrier, part 3: the backdrop and other neat stuff.
Scenery Techniques • by Craig Symington, MMR — The Ophir rocks.
Building For Operation • by Jim Vail, MMR — Moving trains.
The Narrow Gauge Scene • by Charlie Getz — Rio Grande models.
Plans
Lettering Styles of 27-Foot Tiffany Reefers • by Robert Stears
Arcade Depot, South Pacific Coast Railroad, San Jose, California • by Gary Caviglia
Denver & Rio Grande Western 23,000 Gallon Water Tank • by Herman Darr
Denver & Rio Grande 51-foot Dual Gauge Truss Rod Turntable • by Herman Darr
Denver & Rio Grande Rwy 13 MOSCA • by David Fletcher
East Broad Top Railroad & Coal Co. #4 CROMWELL • by David Fletcher
The House at 64 Main St., Jefferson, Colorado • by Jeff Young
The "E" House, Bodie, California • by Neil A. Pfafman
Departments
Robert's Ramblings • by Bob Brown
Pigeon Hole — Letters to the editor.
In Brief — Small announcements, new items, and corrections.
New in Review — Model reviews.
Book Reviews
---