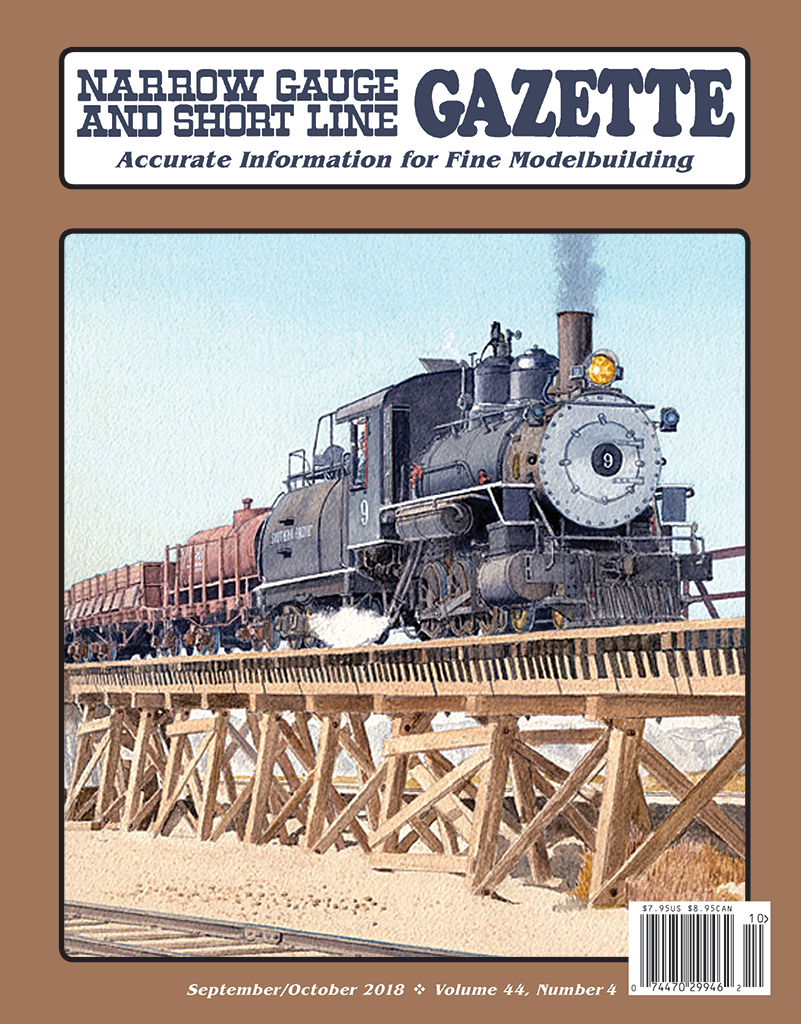 Narrow Gauge and Short Line Gazette September/October 2018
Special Feature
My O Scale Long Leaf Sawmill • by Chuck Lind, MMR — Best of show, 2017 Narrow Gauge Convention.
Features
My On30 Version Of Chama • by Mike Schrier — The rest of the story: Completing Chama on to Cumbres, Gato, And Pagosa.
I Thought I Could Do It – And I Did! • by Bill Allen — A 1:20.3-scale, live steam climax.
Ellis D. Atwood • by Peter S. Barney — Two-foot savior.
Maintenance-of-way Equipment On My On3 Colorado Central & Southern • by Dan Windolph — Part 3: a motorcar.
Along The Narrow Gauge • by Mallory Hope Ferrell — My Historic Photo Album: The Nevada County Narrow Gauge, part 4.
Memories Of The Narrow Gauge • by Mallory Hope Ferrell — A sidebar.
The Black Bear Mountain Railroad • by Brian Rudko — An On30 "pizza" layout.
My HOn3 Rio Grande Southern Lizard Head Division • by Gregg Condon, MMR — Part 7: The High Line and Lizard Head.
Finishing Structures At Ophir • by Craig Symington, MMR — The Oilton Club, Mrs. Skillin's store, and general merchandise store – better late than never.
The Narrow Gauge Scene • by Charlie Getz — A ride behind 315 on the Cumbres & Toltec Scenic Railroad.
Plans
Conoco Tank Cars • by Robert Stears
St. Charles Car Co. Boxcar Lettering • by Robert Stears
Santa Cruz & Felton RR 1, SANTA CRUZ • by David Fletcher
Remains Of The Mastretti Liquor Warehouse Bodie, California • by Neil A. Pfafman
Locomotive Glenbrook • by Gary Caviglia
1913 Ford Model T Delivery Truck • by Bill Gould
Departments
Robert's Ramblings • by Bob Brown
Pigeon Hole — Letters to the editor.
In Brief — Small announcements, new items, and corrections.
New in Review — Model reviews.
Book Reviews
---