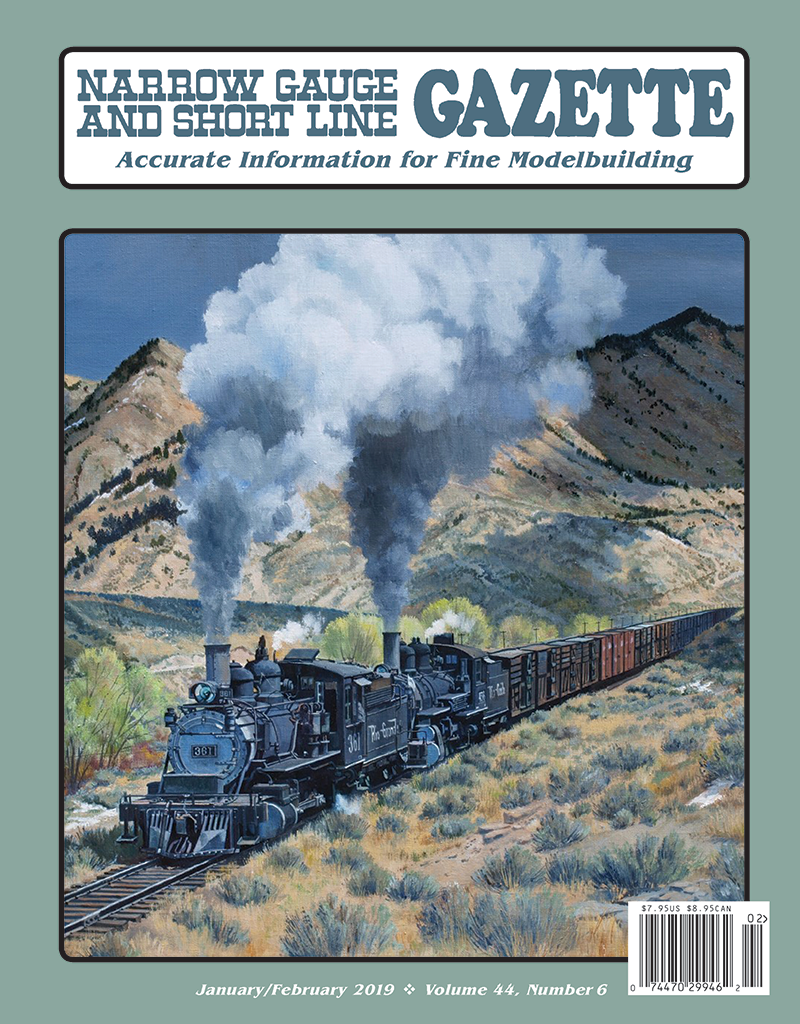 Narrow Gauge and Short Line Gazette January/February 2019
Special Feature
The Kalka-Simla • by Jeff Scherb — Railway to the Raj.
Features
Over The Rio Grande Southern In Sn3 • by Bill Busacca, MMR — A photo tour, part 2: Rico to Dolores.
Layout Refinements • by Dr. Gregg Condon, MMR — Narrow that road.
Urban Narrow Gauge • by Todd Gieg — My HOn3 Boston, Revere Beach & Lynn Railroad.
My HOn3 White Pass & Yukon Route • by Mike May — A modern narrow gauge railroad.
South Pacific Coast Caboose 47 • by Bob Poli — Carter Brothers classic.
Building The Pond • by Bob Bennett — (Full-) Filling an urge.
Maintenance-of-way Equipment On My On3 Colorado Central & Southern • by Dan Windolph — Part 5: Denver, Leadville & Gunnison rotary 064, part 2.
Scenery Techniques • by Craig Symington, MMR — Working my way out of a corner.
The Narrow Gauge Scene • by Charlie Getz — The Tokyo narrow gauge modeling festival.
Plans
Colorado & Southern Narrow Gauge Automobile Car 8242 • by Robert Stears
South Pacific Coast Railroad 4 • by David Fletcher
The Dr. Street House, Bodie, California • by Neil A. Pfafman
Virginia & Truckee Railroad Combination Car Nos. 15 & 16 • by Gary Caviglia
1913 Ford Model T Delivery Truck • by Bill Gould
Departments
Robert's Ramblings • by Bob Brown
In Brief — Small announcements, new items, and corrections.
New in Review — Model reviews.
Book Reviews
---