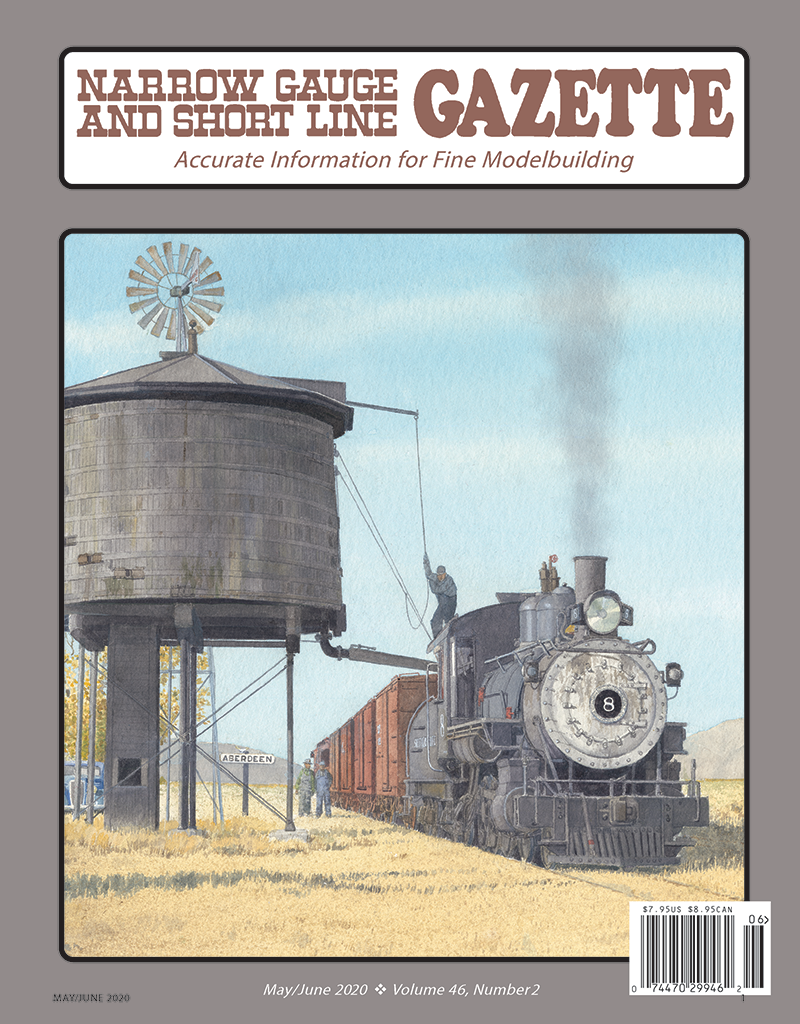 Narrow Gauge and Short Line Gazette May/June 2020
Special Feature
My S Scale Model Of The Elk River Coal & Lumber Company Swandale Sawmill • by Brooks Stover, MMR — A Model That Evolved Over Three Layouts.
Features
Working Outside-Hung Brakes On A Two-Truck HO Gauge Flatcar • by Gail E. Dunning — Good Luck!
The West Side Lumber Company In Sn3 Part 2: Operations • by Vinny Pellitteri — More Fun Than You Might Think.
Fiddletown & Copperopolis #8 • by Gary Nichols — A 1/8n14 Shay.
Two Other Skookums • by Peter J. Replinger — Logging lokies.
Modeling The Railroads Of Colorado's South Park In O Scale Atmosphere. • by Richard Severance
Layout Refinements • by Dr. Gregg Condon, MMR — Add An Interior To A Structure.
Scratchbuilding Colorado Central #10 For My On3 Colorado Central & Southern Part 3: The Boiler • by Dan Windolph
Potpourri • by Craig Symington, MMR — Reflexions And Other Musings On The Hobby.
The Narrow Gauge Scene • by Charlie Getz — The 2020 National Narrow Gauge Convention In St. Louis, Missouri — Celebrating Forty Years.
Plans
D&RG #13, MOUNTAINEER Double Fairlie Locomotive (Part 2) • by Robert Stears
The Conway House, Bodie, California • by Neil A. Pfafman
Lawndale Railroad & Industrial Co. #5 • by David Fletcher
Passenger Depot Mound House, Nevada • by Gary Caviglia
Departments
Robert's Ramblings • by Bob Brown
Pigeon Hole — Letters to the editor.
New in Review — Model reviews.
Book and Video Reviews
---