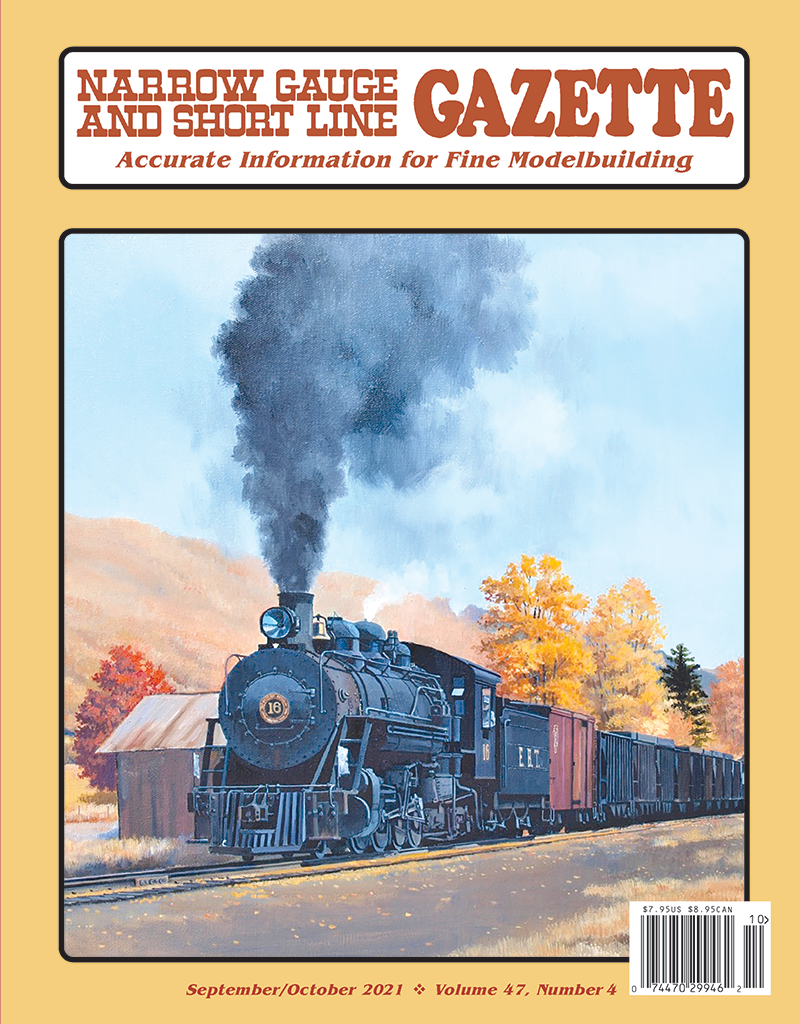 Narrow Gauge and Short Line Gazette September/October 2021
Special Feature
An American Magnesium Company Monorail Locomotive • by Adrian Garner — The Ultimate Narrow Gauge.
Features
My 1:24 Scale Sierra Nevada Railway • by Paul Kopp — Large Scale In A 10-x 15-Foot Room.
Over The Rails By Internal Combustion • by Bob Bennett — My On30 Roster Of Railcars.
The East Tennessee & Western North Carolina Railroad And Its Locomotives • by Johnny Graybeal — Part 7: Hand Me Down Locomotive: ET&WNC/Linville River Railway Number 28.
The Santa Cruz Lumber Company • by Peter J. Replinger — Local Logging.
Animating Switch Stand Targets • by Mike May — Bending Iron.
Layout Refinements • by Dr. Gregg Condon, MMR — Grow Some Tall Weeds!
Maintenance Of Way Equipment On My On3 Colorado Central & Southern • by Dan Windolph — The Jull, Part 2.
RGS Caboose 0404 • by Craig Symington, MMR — Finished!
The Narrow Gauge Scene • by Charlie Getz — A Tale Of Two Mines Building The Master Creations Old Rose Mine Kit.
Plans
Water Tower, Mound House, Nevada • by Gary Caviglia
Kentwood & Eastern Railway #28 To East Tennessee & Western North Carolina #28 • by David Fletcher
Colorado & Southern Baggage/R.P.O. Car #13 • by Robert Stears
The Bodie Foundry, Bodie, California The Molding Shop • by Neil A. Pfafman
Departments
Robert's Ramblings • by Bob Brown
Pigeon Hole — Letters to the editor.
New in Review — Model reviews.
Book Reviews
---