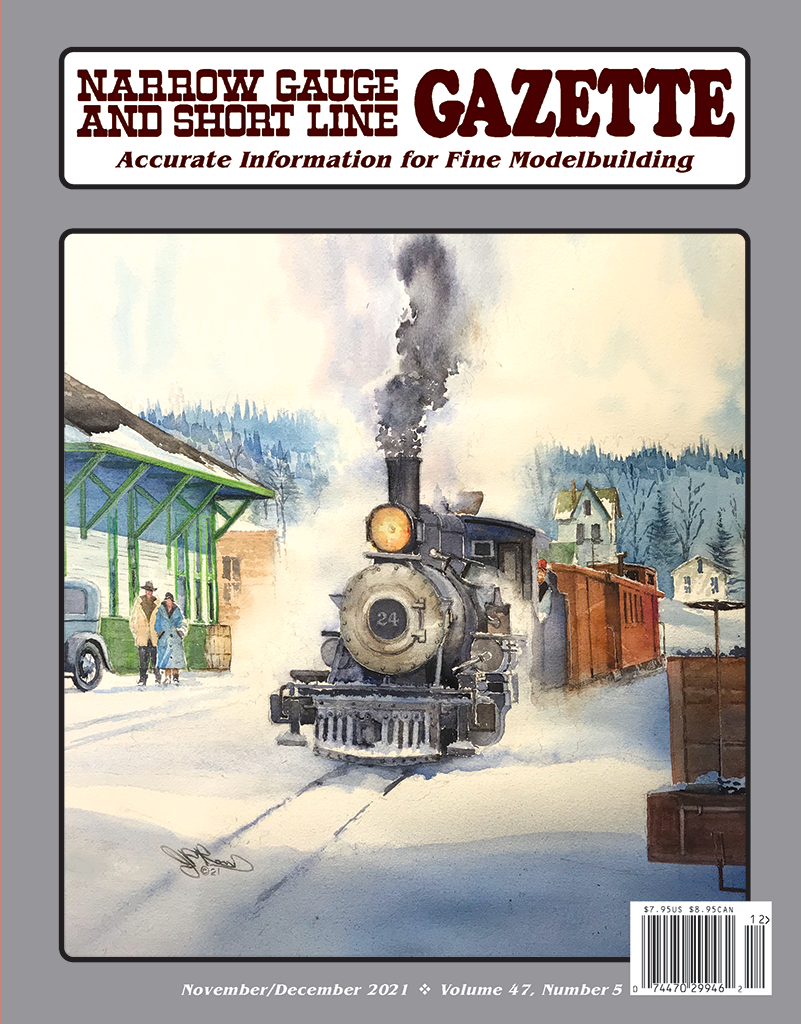 Narrow Gauge and Short Line Gazette November/December 2021
Special Feature
John Beck's 14-Inch Gauge Railroad • by Dr. Gregg Condon, MMR — A Working Model Railroad.
Features
The Terlingua, Glenn Springs, & Boquillas • by Woodie C. Greene — A 2-Foot Gauge Railroad In 1:35 Scale.
The East Tennessee & Western North Carolina Railroad And Its Locomotives • by Johnny Graybeal — Part 8: Late to the Party: The Story of 2nd Number 8.
Washington Iron Works "Jammer" • by Peter J. Replinger — Loading them up.
Building Reed's Cove Station • by Sam Swanson — A Maine Coastal Classic.
Meandering Through History • by Laura Burtness — Bodie Today.
Maintenance Of Way Equipment On My On3 Colorado Central & Southern • by Dan Windolph — The Jull, Part 3.
A Walk Down Memory Lane • by Craig Symington, MMR — HOn3 Rolling Stock Kits And Tribute Cars.
The Narrow Gauge Scene • by Charlie Getz — Model Railroading As Art? Recreating A Painting In Three Dimensions.
Plans
D&RGW Block Car 04444, Derrick OP • by Herman Darr
D&RGW Tool Car 04549, Derrick OP • by Herman Darr
McCloud River Railroad Engine #18 • by Gary Caviglia
Twin Mountain & Potomac RR #2 to East Tennessee & Western North Carolina 2nd #8 • by David Fletcher
C&S Baggage/R.P.O. Car #13, Part 2 • by Robert Stears
The Washington Iron Works McGiffert-Type Loader • Re-inked by George Cummings
The Kirkwood Livery, Bodie, California • by Neil A. Pfafman
Departments
Gallery — 41st National NG Convention Contest Winners.
Robert's Ramblings • by Bob Brown
Pigeon Hole — Letters to the editor.
New in Review — Model reviews.
Book Reviews
---