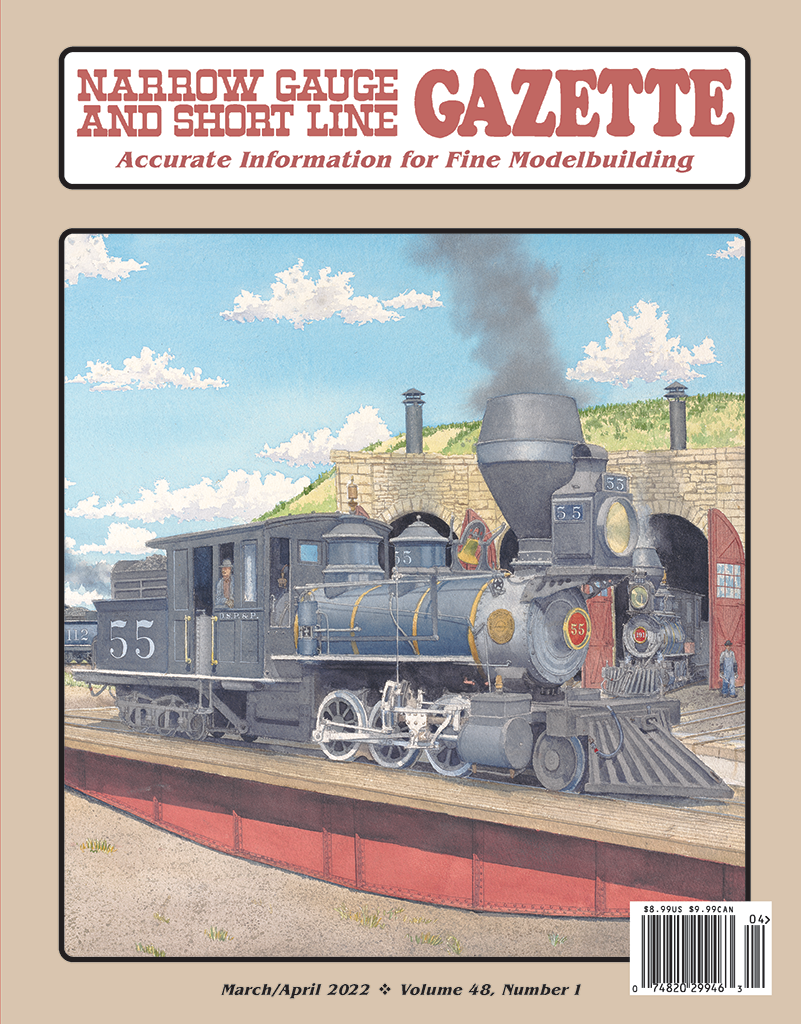 Narrow Gauge and Short Line Gazette March/April 2022
Special Feature
Pitkin Sand & Gravel • by Joseph Crea — A Different Kind Of Colorado Railroad.
Features
Hobo Haven • by Chuck Lind, MMR — A Shelter In Place Project.
Wallace Flats • by Phil Holden — A Portable On30 Display Layout.
On30 Crew Speeder For Wallace Flats • by Phil Holden — A sidebar.
Locomotives Of The White Pass & Yukon Route • by Rob Bell — Part 1: Alaska's First Locomotives.
Olympia And Tenino Railroad/Olympia And Chehalis Valley Railroad • by Peter J. Replinger — Olympia, Washington's First Connection To The Outside World Was A Narrow Gauge Railroad.
Adding Life To A Dead Space • by Pete Leach, MMR — Atmosphere.
Layout Refinements • by Dr. Gregg Condon, MMR — Build Scenes Off-Layout.
The Romley Turntable On My 0n3 Colorado Central & Southern • by Dan Windolph — Part 2: The Pit.
A Locomotive Test Track • by Craig Symington, MMR — Doing It In Style.
The Narrow Gauge Scene • by Charlie Getz — Terminal Thoughts Part 2: Modifying The Walthers Milwaukee Station.
Plans
Utah & Northern Railway #23 • by David Fletcher
Colorado & Southern Ry. Coach #62 • by Robert Stears
Denver & Rio Grande Western Kitchen & Diner Car 04466 • by Herman Darr
The U.S. Bakery, Bodie, California • by Neil A. Pfafman
South Pacific Coast RR, Baggage/Express Depot Franklin Street Terminal • by Gary Caviglia
Denver & Rio Grande Western Water Service Outfit Car 04432 • by Herman Darr
Departments
Robert's Ramblings • by Bob Brown
Pigeon Hole — Letters to the editor.
New in Review — Model reviews.
Book Reviews
---