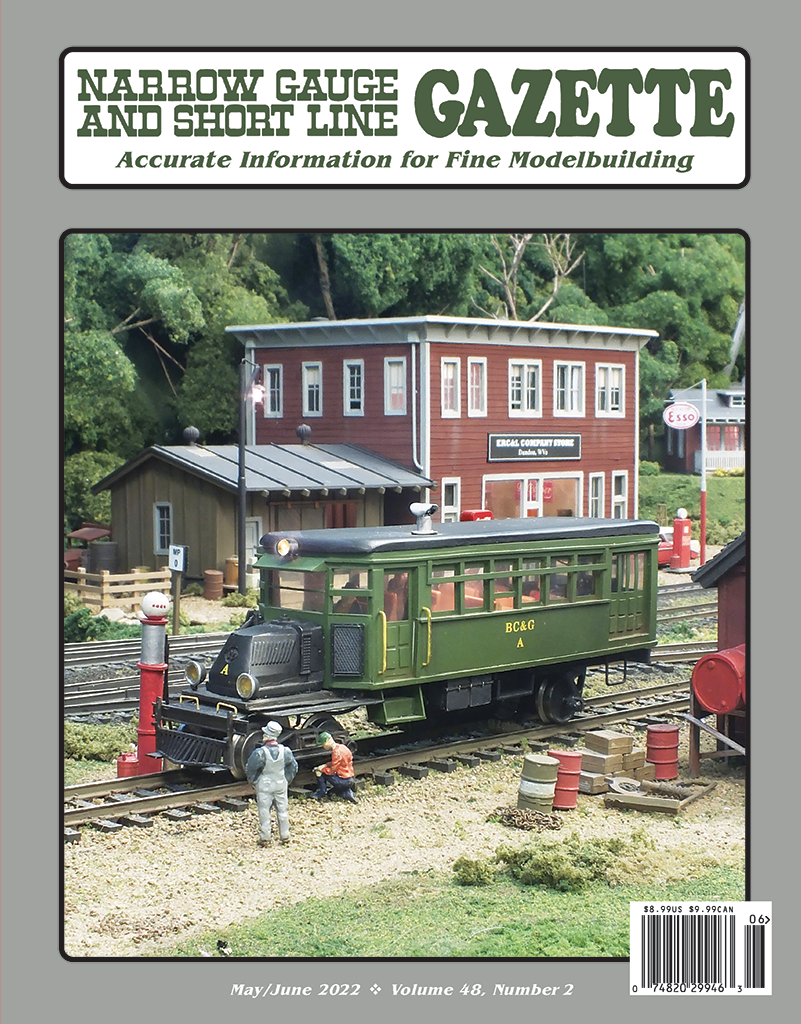 Narrow Gauge and Short Line Gazette May/June 2022
Special Feature
BC&G's Motor A Mack Railbus • by Brooks Stover, MMR — An S Scale Model 25 Years In The Making.
Features
Fun With Foamcore • by Greg Wright, MMR — Building My Aerial Tramway Discharge Terminal.
A Narrow Gauge 1:20.3 Scale Outside Frame 0-6-0 • by Don Rose — Something A Little Different.
Locomotives Of The White Pass & Yukon Route • by Rob Bell — Part 2: The D&RG Connection.
The Narrow Gauge Consolidated Lumber Company Railroad At Elk, Washington • by Peter J. Replinger — 3-Foot Rails In The Woods.
Scratchbuilt Vintage Trucks • by Richard Compton — Bits & Pieces.
Layout Improvements • by Dr. Gregg Condon, MMR — Add A Porch To A House.
The Chalk Cliffs On My On3 Colorado Central And Southern • by Dan Windolph — Spectacular scenery.
Brass Bashing in Sn3 • by Craig Symington, MMR — Colorado & Southern #58, circa 1915.
The Narrow Gauge Scene • by Charlie Getz — 42nd National Narrow Gauge Convention Things To Do In Seattle/Tacoma.
Plans
Mack Model AC BC&G Motor "A" Railbus • by Brooks Stover, MMR
Toledo, Cincinnati & St. Louis Railroad #63 • by David Fletcher
Denver, Boulder & Western RR Coach #21 • by Robert Stears
Number 2 Pattern Logging Car • Courtesy Of The California Short Line Historical Society
Denver & Rio Grande Stock Car 5671 • by Herman Darr
Denver & Rio Grande Western Wheel & Tie Car 06092 • by Herman Darr
The Dog Face George House, Bodie, California • by Neil A. Pfafman
Virginia & Truckee Railroad Station Stop, Franktown, Nevada, Depot and Water Tank • by Gary Caviglia
Departments
Robert's Ramblings • by Bob Brown
Pigeon Hole — Letters to the editor.
New in Review — Model reviews.
Book Reviews
---