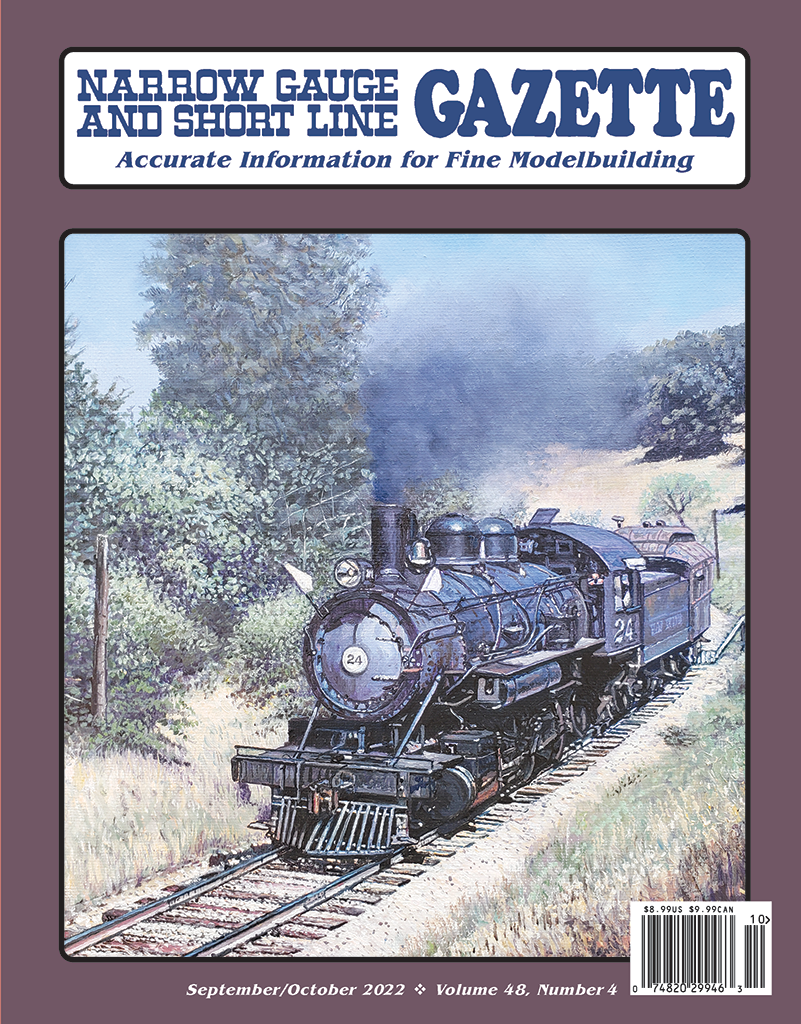 Narrow Gauge and Short Line Gazette September/October 2022
Special Feature
Producing Plastic Plywood • by Sam Swanson — Sleight of Hand.
Features
A Plywood-sheathed Boxcar • by Sam Swanson — A sidebar.
Operations On Pat Thoney's On30 Quincy & Torch Lake Railroad • by Dr. Gregg Condon, MMR — They call it rock.
An On30 Water Car • by Phil Holden — Something interesting.
Along The Waterfront On The Sn3 Loon Lake Railway & Navigation Co. • by Peter Smith, MMR — Part 2: Watercraft And Wharf Side Industries.
The 45¼-Inch Gauge Arcata & Mad River Railroad • by Peter J. Replinger — California's Oldest Railroad.
Locomotives Of The White Pass & Yukon Route • by Rob Bell — Part 4: The Twins.
The Idaho Springs Depot On My 0n3 Colorado Central & Southern • by Dan Windolph — Classic Style.
Old Placerville Petroleum Distributors • by Craig Symington, MMR — Part 2: Texaco Distributor.
The Narrow Gauge Scene • by Charlie Getz — Building Vintage "Mechanical" Kits.
Plans
Denver, South Park & Pacific Plan 73 Narrow Gauge Pullman Sleeping Cars • by Robert Stears
White Pass & Yukon Railway 2-8-0 #7 • by David Fletcher
Denver & Rio Grande 4100 Series Boxcars • by Herman Darr
Caspar, South Fork & Eastern Railroad #3, SMILAX • by Gary Caviglia
The Hydro Building, Bodie, California • by Neil A. Pfafman
Departments
Robert's Ramblings • by Bob Brown
Pigeon Hole — Letters to the editor.
New in Review — Model reviews.
---