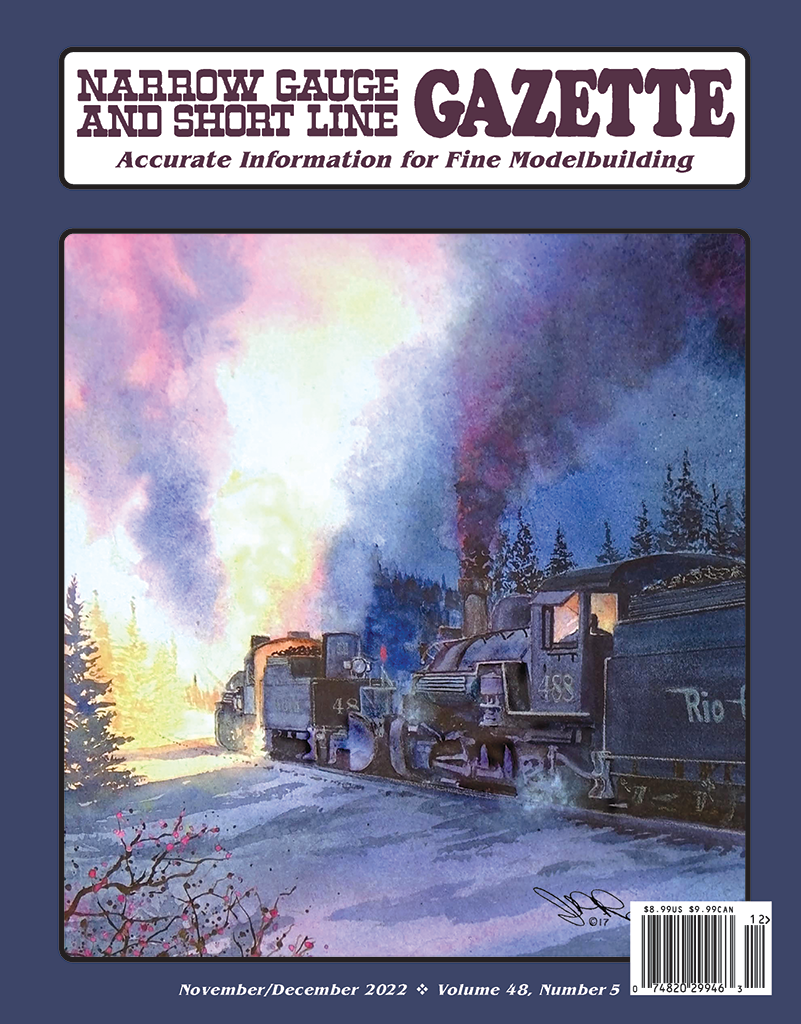 Narrow Gauge and Short Line Gazette November/December 2022
Special Feature
My HOn3 Silverton Northern Railroad • by Paul Ferguson — Colorado Narrow Gauge Downunder
Features
Our White Pass & Yukon Route #81s In HOn3 • by Mike May with Robert Bell — A Tale Of Collaboration.
Locomotives Of The White Pass & Yukon Route • by Rob Bell — Part 5: The Climax Of The Story
42nd National Narrow Gauge Convention Gallery • Courtesy of Robin Peel — Contest Winners.
Yeon & Pelton Company Incline • by Peter J. Replinger — A 42-Inch Gauge Railroad In Oregon.
My "A" Frame Tank Locomotive • by Allen K. Littlefield — An Unusual Kitbash.
Extra 42 South • by Dr. Gregg Condon, MMR — Replicating The Commonplace.
The Forks Creek Eating House On My On3 Colorado Central & Southern • by Dan Windolph — Classic C&S.
Old Placerville Petroleum Distributors • by Craig Symington, MMR — Part 3: Tanks And Completing The Scene.
The Narrow Gauge Scene • by Charlie Getz — Coronado Scale Models—Pioneers.
Plans
Colorado & Northwestern Railway #2 • by David Fletcher
Denver & Rio Grande Western Pullman Narrow Gauge Plan 178 Sleeping Cars • by Robert Stears
Tonopah & Goldfield and Bullfrog Goldfield Baldwin 2-8-0 Locomotives • by Gary Caviglia
The Brown House, Bodie, California • by Neil A. Pfafman
Departments
Robert's Ramblings • by Bob Brown
Pigeon Hole — Letters to the editor.
New in Review — Model reviews.
Book Reviews and a Video
---