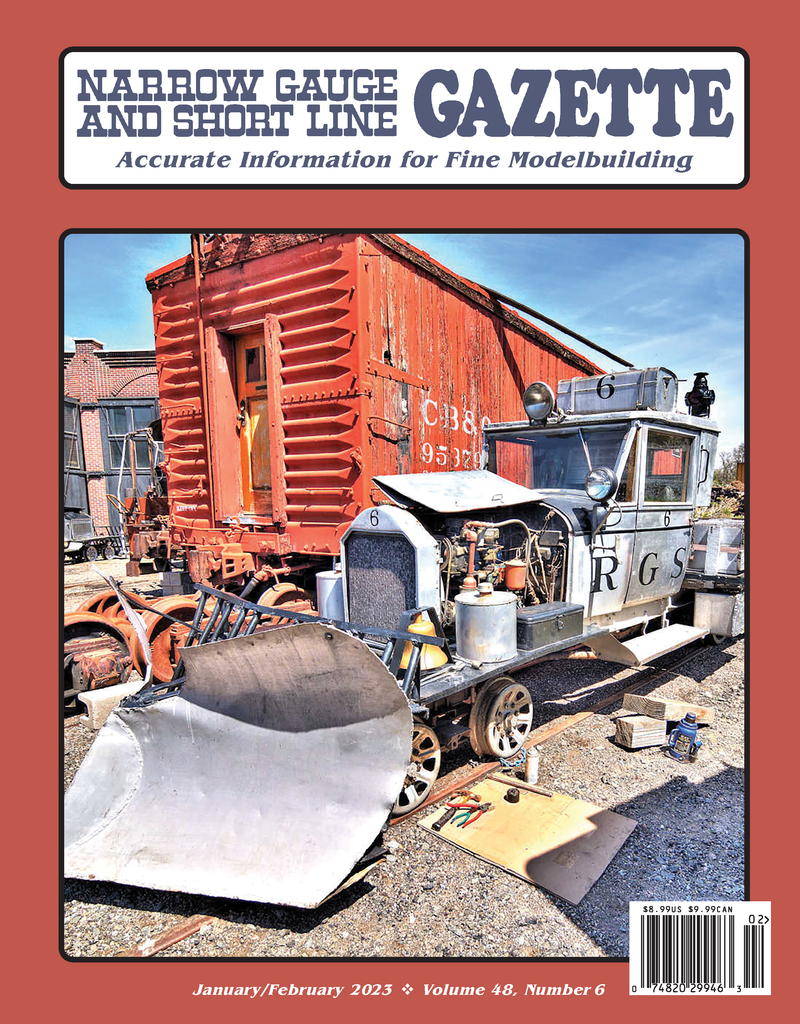 Narrow Gauge and Short Line Gazette January/February 2023
Special Feature

A Pair Of HO Scale Iron Ore Steam Shovels • by Jerry Lauchle, MMR — An Industrial Model.
Features
The Redgate Mill • by William Longley-Cook — On30 In The Garden.
Locomotives Of The White Pass & Yukon Route • by Rob Bell — Part 6: Two Pair = Four Of A Kind.
The Two Large Steel Bridges Of The Simpson Logging Company Of Washington State • by Peter J. Replinger — An Announcement.
Portable Sawmills • by Ted Van Pelt — An S Scale Scene.
The Silver Spur Mill • by Dr. Gregg Condon, MMR — Following A Prototype — Sort Of.
An HOn3 "Bicycle" Locomotive • by Gary Bothe — So Long Ago.
Lightweight Pond Development And Detailing • by Sam Swanson — Designed For Moving.
The Alpine Hose #2 Firehouse On My On3 Colorado Central & Southern • by author — Description.
Rico Coal Pocket — Part 3 • by Craig Symington, MMR — The Final Part.
The Narrow Gauge Scene • by Charlie Getz — E. L. Moore And The Village Smithy — Bringing An Old Kit Back To Life.
Plans
Otis Steam Shovel • by Jerry Lauchle, MMR
White Pass & Yukon Railway Co. 4-6-0 #60 • by David Fletcher
The Tom Miller Icehouse, Bodie, California • by Neil A. Pfafman
Denver & Rio Grande Narrow Gauge Business Car MAID OF ERIN • by Robert Stears
Gas Stations Of The 1920s • by Gary Caviglia
Bodie & Benton Ry 0-4-2T #4 • by Herman H. Darr
Colorado & Southern NG Gondola #4319 • by Herman H. Darr
Departments
Robert's Ramblings • by Bob Brown
Pigeon Hole — Letters to the editor.
New in Review — Model reviews.
Book Reviews
---