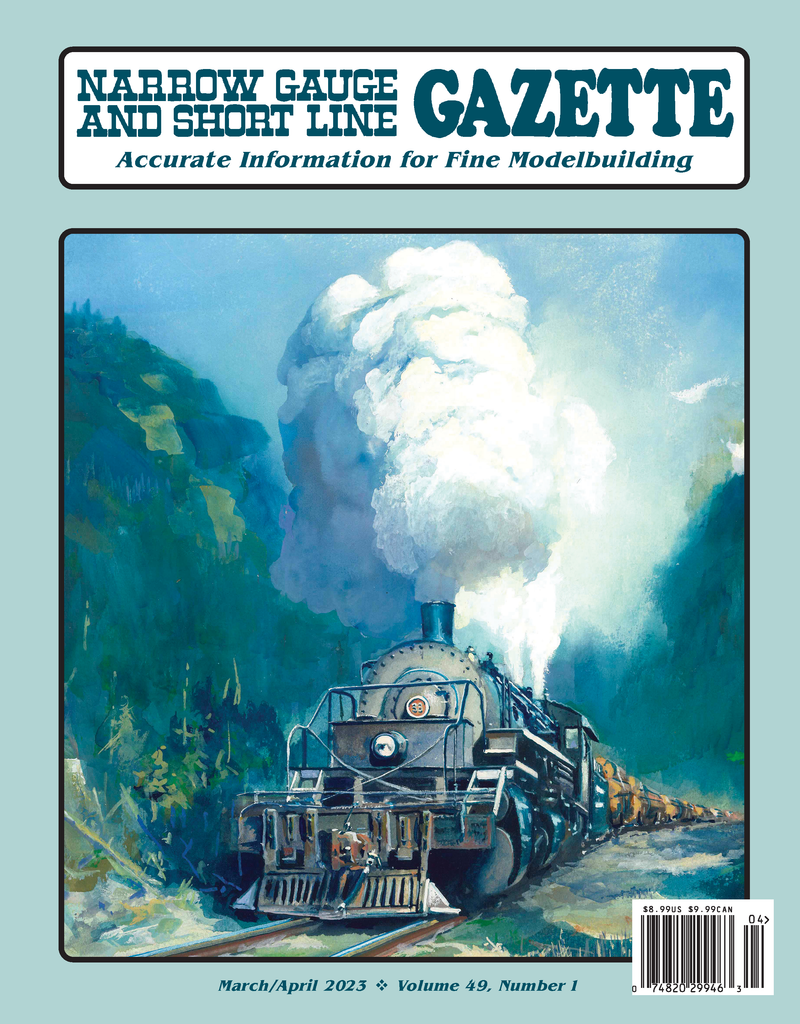 Narrow Gauge and Short Line Gazette March/April 2023
Special Feature
Colorado Pacific • by Jerry Hoverson, MMR — A Narrow Gauge Branch Line Owned By The Rocky Mountain Central.
Features
An HO Scale Abandoned Mining Town • by Jim Gray — Worn Out And Derelict.
Swandale Planing Mill • by Brooks Stover, MMR — Modeling Another Elk River Coal & Lumber Structure.
Locomotives Of The White Pass & Yukon Route • by Rob Bell — Part 7: Early Brute Force.
A Few Narrow Gauge Shays • by Peter J. Replinger — Plus A Lesser-Known Washington Logging Line.
A Woodcutter's Shack In Large Scale • by Travis Glass — A Challenge.
Build An Auto Flat • by Dr. Gregg Condon, MMR — Oddball.
The Como Bandstand On My On3 Colorado Central & Southern • by Dan Windolph — Quite A Change.
Old Placerville Café-Bar • by Craig Symington, MMR — McCarville Studios.
The Narrow Gauge Scene • by Charlie Getz — "Stuff".
Plans
White Pass & Yukon Railway Co. 2-8-0 #61 • by David Fletcher
Narrow Gauge Private Car, MASCOTTE • by Robert Stears
Spanish Colonial Block Buildings • by Gary Caviglia
Miss Lilly, Dressmaker, Bodie, California • by Neil A. Pfafman
Colorado & Southern Narrow Gauge Gondola #4408 • by Herman H. Darr
Eureka & Palisade Railroad Gondola #310 • by Herman H. Darr
Denver & Rio Grande Western Kitchen Car 04800 And Tool Car 04802 • by Herman H. Darr
Departments
Robert's Ramblings • by Bob Brown
Pigeon Hole — Letters to the editor.
New in Review — Model reviews.
Book Reviews
---