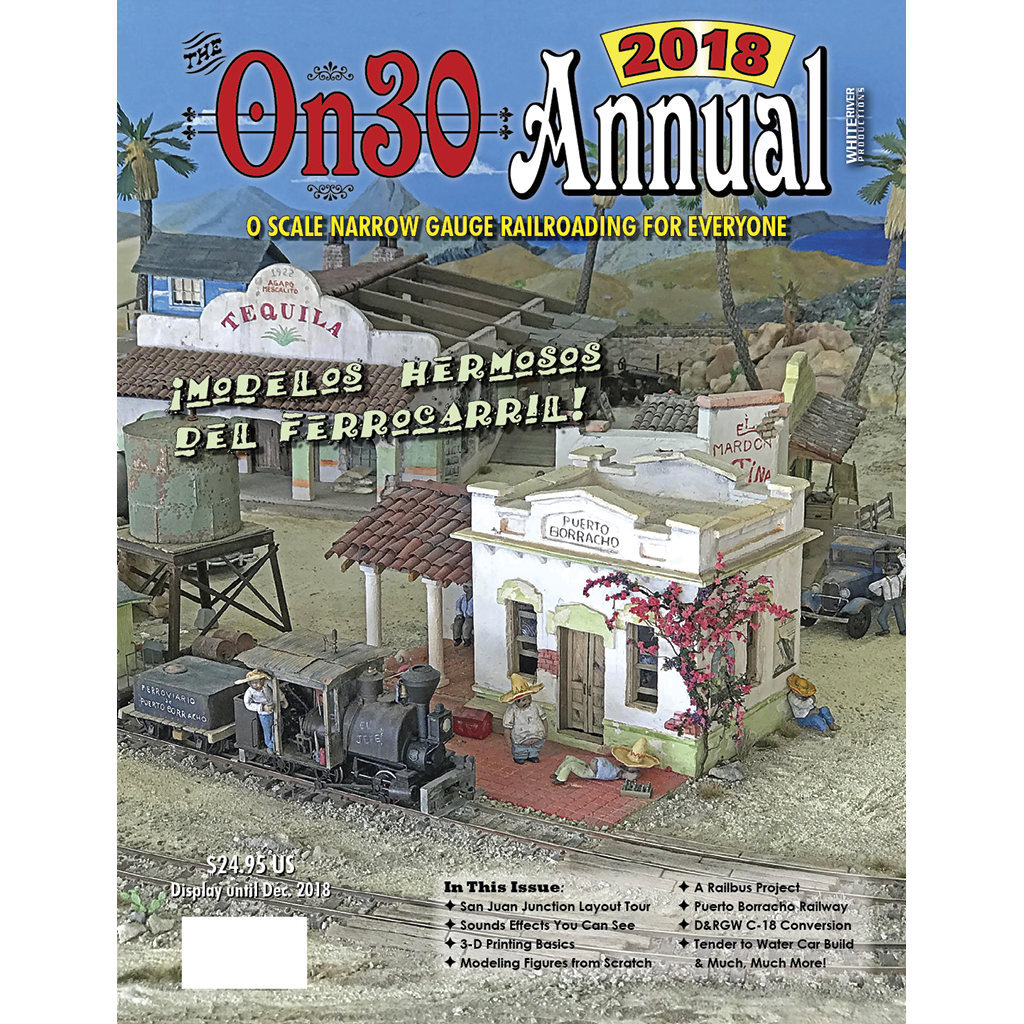 On30 Annual 2018
The only annual publication dedicated exclusively to O scale narrow gauge model railroading! Each edition contains fabulous layout tours, detailed modeling projects, great prototype information, fresh product reviews and more.
Now in its 13th year of publication, the 2018 On30 Annual brings you the best of On30 projects, layouts, modules, locomotives and rolling stock by the top authors in the scale. On30 modelers are all about building and the On30 Annual is loaded with both building ideas and layout projects that challenge and teach. This year's issue will provide the modeler with well over a year's worth of On30 inspiration and modeling projects.
Build a Diorama • by Paul Taylor — No place for a layout? Dioramas are fun & easy.
Making a Logging Co. Woods Super's Car • by Joseph Kriess — Dirtying up a die-cast car for woods duty.
Mount Blue Railbus • by Allen K. Littlefield — Can't leave well enough alone.
New Life For an Old Tender • by Lee Bishop — A new water car for the Stoney Creek Southern.
Water Car Wisdom • by Chris Lane — Railroad rolling stock recycling with drawings.
Sound That Should Be Seen and Not Heard • by Jim Wells — From model railroad, to theme park, and back again!
Making Amigos • by Gary Beatty — Techniques for sculpting scale figures with personality.
My Dad's House • by Bob Bennett — Building a model with memories.
San Juan Junction • by Joshua & Emilian Cirtina — Building Southwest Colorado in the UK.
Along the Right-Of-Way • by George B. Riley — Equipping the track gang.
A Cab Forward Through the Redwoods • by Dennis Ivison — Turning a 2-6-6-2 around.
From BLI C-16 to Superdetailed C-18 • by Dylan Hutson — Swapping drivers, new crossheads and full cab details.
Scratchbuilding an O Scale Snag Boat • by Joseph Kriess — How the Mosquito Creek Lumber Company clears debris.
The Puerto Borracho Railway • by Gary Beatty — Fish tacos, tequilla and trains? Muy excelente!
The Square Footer Challenge • by Allen K. Littlefield — Building contest models in a 12-inch by 12-inch space.
Traveling Toolbox for Craftsman Modelers • by Ron Guttman — All your tools in a furniture grade mobile case.
3-D Printing Basics • by Robb Thomas — Designing a locomotive shell for an existing mechanism.
The Dead Tree Subdivision • by Jim O'Connell — A 4-foot by 6-foot layout of the Pinnacle Creek Mining & Timber Co.
The On48 Compromise • by David Barnkow — A journey into On30 dual-gauge.
An Elderly Modeler Makes a Plan • by Terry Wheeler — I did it, I really did it!
The Magaby Mining Company Railroad • by Marianne Norwich — A layout that keeps expanding.
On30 Product Spotlight • by On30 Annual Staff — New releases for 2018.
---