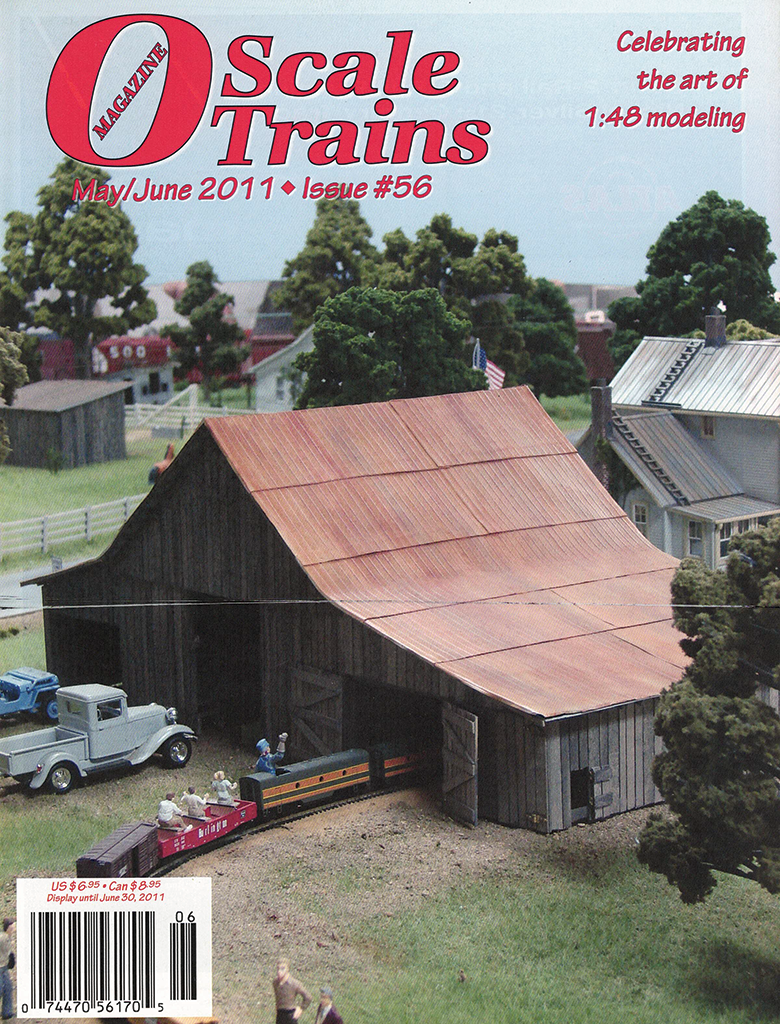 O Scale Trains Magazine May/June 2011
Features
Modeling An Old Barn • by Ray and Renee Grosser — Renee copies the barn on their property for their O Scale railroad.
Starting Over, Part 7 • by Joe Giannovario — Joe tackles another N&W depot. This time it's Whitetop, Virginia.
MTH GS Gondola Frame Repair • by Jeff Freeman — An easy fill-in for the missing frame components.
Kitbashing an SCL S2m • by Dave Friedlander — How to build an interesting prototype from existing parts.
Motif 1: Fishing Shack, Rockport, Massachusetts • by Harold Russell — This famous landmark could fit any O Scale layout.
2011 Year of the Kit Promotion — Buy A Kit. Build A Kit. Win A Prize. More Vendors.
A New Look at O Scale Layout Design, Part 4 • by Brian Scace — How to successfully incorporate a loop into your design.
The Flatcar Project • by John Fryant — John resurrects an old kit and restores it to glory.
Chicago Midwest O Scale Meet Photos — Also see the centerspread.
Index of O Scale Trains Vol. 9, 2010
Columns
Observations • by Joe Giannovario
The Art of Prototype Modeling • by Mike Cougill
The Modern Image • by Gene Clements
Traction Action • by Martin Brechbiel
Departments
Advertisers' Index
Buy-Sell-Trade Ads
Events Listing
News and Reviews
Reader Feedback
---