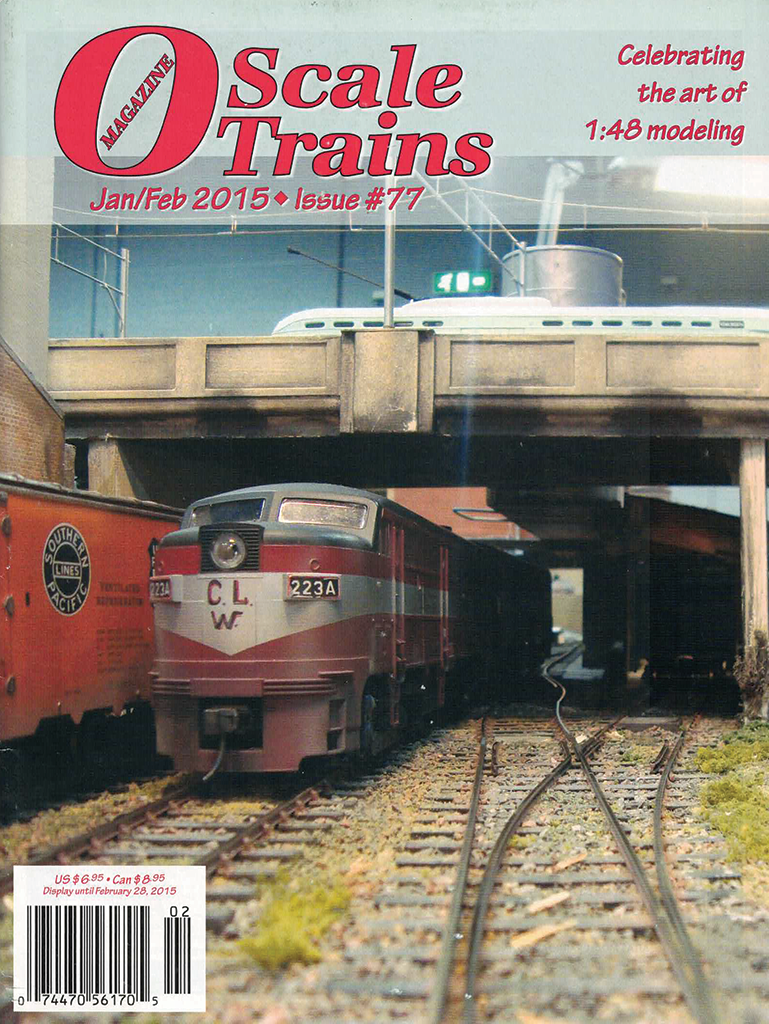 O Scale Trains Magazine January/February 2015
Features
The L&W Railway at "Western Avenue"­ • by Rossiter, Dodd, and Scace — A Chicago-themed exhibition layout in the UK.
A Four-wheel Rotary Snowplow • by George Paxon — The traction/interurban railroad solution to snow removal.
Coupler Compatibility • by Dan Pence — Dan continues our explorations of O Scale couplers with this reference work.
Really Obvious Tips • by Charlie Morrill — Paint curing on the cheap.
2014 Southwest O Scale Meet • by Jim DeBruin — A look at how the Texans do it.
Index to Volume 13- Jan-Dec 2014 • by Woody Mathews — Our thanks go to Woody for his annual task well clone.
Fabricating Your Own Airbrake Hose • by Andre Garcia — A hose with a twist (of the valve handle).
A Letter from the Kings • by Bob Lavezzi — Reader Feedback from OSK.
Columns
Observations • by Brian Scace
O Scale Archeology • by Jim DeBruin
Traction Action • by Martin Brechbiel
Departments
Advertisers' Index
Buy-Sell-Trade Ads
Club News
Events Listing
Modelers' Showcase
Product News and Reviews
Reader Feedback
---