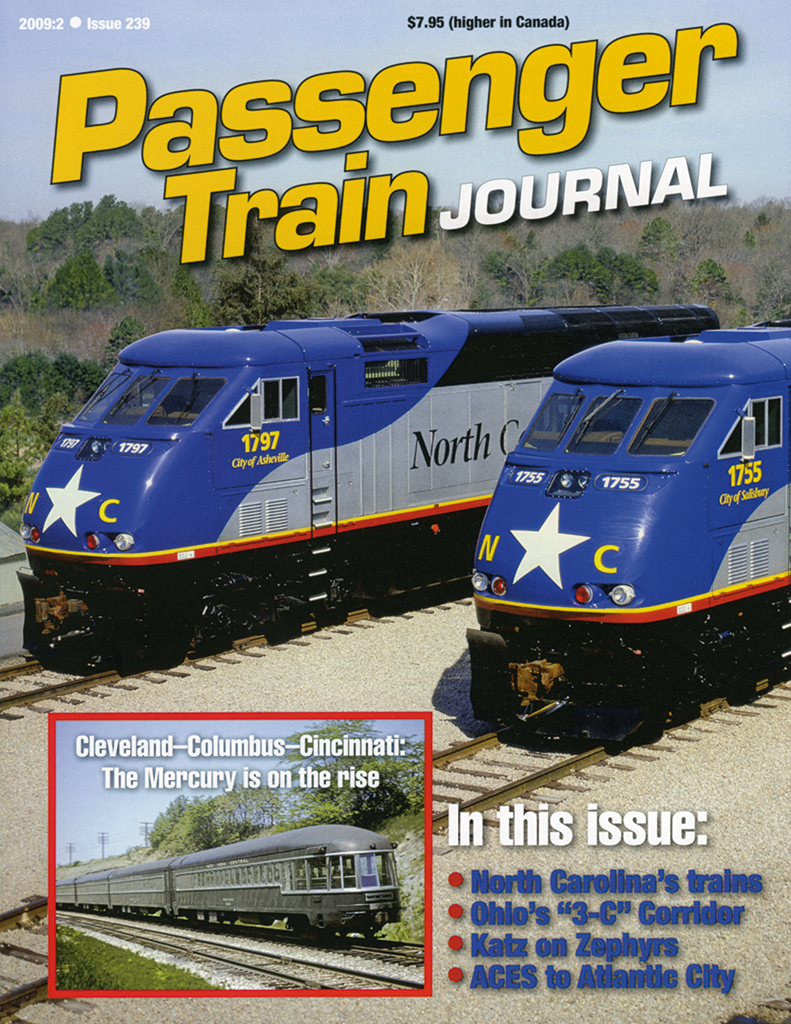 Passenger Train Journal Second Quarter 2009
Features:
To Atlantic City by Train • Now by Elbert Simon Jr., Then by Eric Dervinis and Kevin Feeney — A comparison of rail passenger operations between New York City, Philadelphia, and the Boardwalk city.
A Sunset Solution • PTJ Staff Report—The time for change for Amtrak's beleaguered sunbelt transcon has arrived.
Ohio's 3-C Corridor • by Kevin McKinney — Will the Buckeye State finally get the rail passenger service it deserves?
The Good Roads State Turns to Trains • by Malcom Kent — North Carolina becomes a model for regional advancement in passenger rail.
A Zephyr by Any Other Name... • by Curtis L. Katz — The story behind the search for that famous moniker.
Zephyrettes Anyone? • by Curtis L. Katz — The hostess service discontinued during World War II returns to the rails with the inauguration of the California Zephyr.
Long Live the PCC • by Justin Franz — Riding MBTA's Mattapan-Ashmont high-speed line.
Departments:
On the Point • by Mike Schafer
The Journal • by George Fletcher
North American Intercity • by Karl Zimmerman
Window on the World • by Kevin McKinney
Rush Hour • by Michael Roberts
LeisureRail • by Ted & Sylvia Blishak
Mail, Express and L.C.L.
---