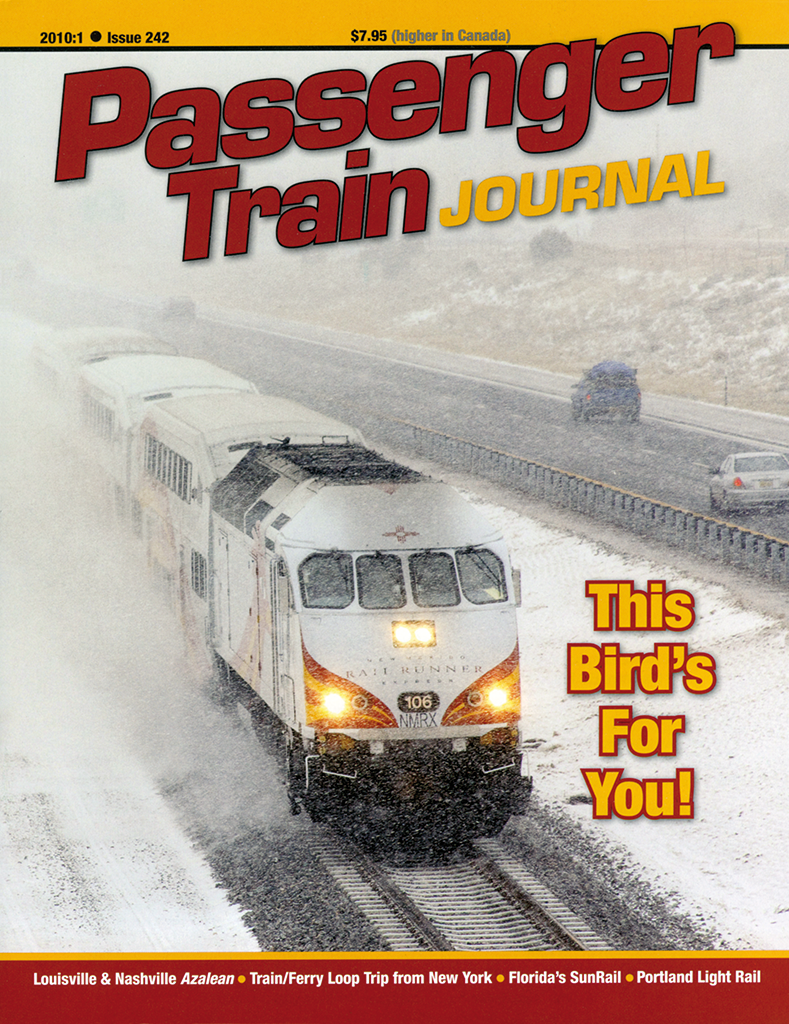 Passenger Train Journal First Quarter 2010
Features:
Evolution Along the Old Pennsy • by Elbert Simon — Special Journal Report: Changes along the former Pennsylvania Railroad New York-Pittsburgh main could yield more service.
SunRail: Central Florida Gears Up • by Bruce Richardson with PTJ staff — Special Journal Report: After years of stumbling, regional/commuter-rail service in the Orlando area may finally be underway.
New Mexico's Rail Runner Spreads its Wings • by Dave Crammer — How pragmatism has changed the face of travel in the Belen-Albuquerque-Santa Fe corridor.
Louisville & Nashville's Azalean • by Ron Flanary — Never heard of this train? Well, you're not alone! PTJ reviews the life and times of a Cincinnati-New Orleans underdog.
Trail Blazer: Train and Ferry Loop Trip • by Theodore W. Scull — Here's a day outing you can make from Manhattan to Connecticut and apicturesque port on Long Island that includes a relaxing ferry tripacross Long Island Sound.
Expansion for Portland's MAX • by Steve Morgan — Oregon's largest city continues to be a leader in light-rail and also vintage trolley operations.
Departments:
On the Point • by Mike Schafer
The Journal • by George Fletcher
North American Intercity • by Karl Zimmerman
Rush Hour • by Michael Roberts
Window on the World • by Kevin McKinney
LeisureRail • by Ted & Sylvia Blishak
Mail, Express and L.C.L.
---