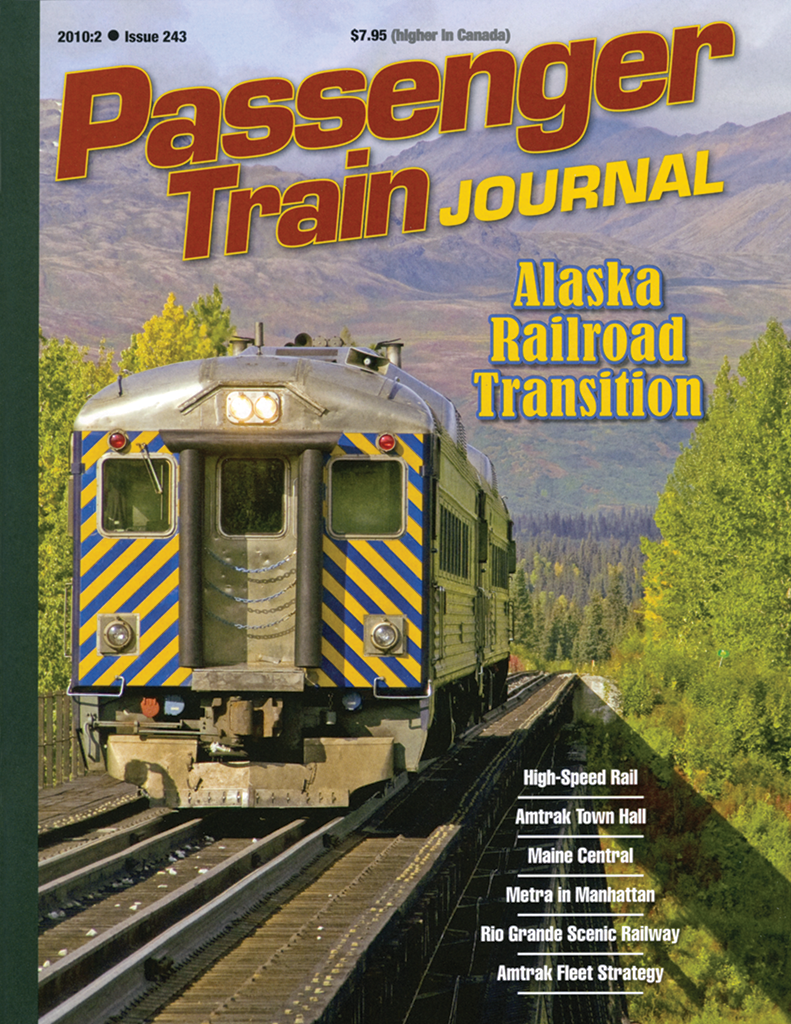 Passenger Train Journal Second Quarter 2010
Features:
High Speed Rail: The First Steps • by Elbert Simon — An examination of the projects selected and measures taken in the development of high speed rail transportation across the country.
Amtrak's Fleet Strategy: Where It's Headed • by Elbert Simon — A blueprint for the future that details the plan for replacement of Amtrak's fleet of locomotives and cars.
A Time of Transition on the Alaska Railroad • by Frank Keller — The RDCs are obsolete and retired, DMUs are taking their place.
Problem Solved • by Geoffrey H Doughty — How Maine Central eliminated its passenger deficit.
Chicago's Metra Wabash Extension" • by Paul Burgess — Passenger rail service returns to Manhattan, Illinois and points between.
Colorado's Royal Gorge Route Railroad • by Ted & Sylvia Blishak — Enjoy royal treatment on this scenic canyon railroad.
Departments:
On the Point • by Mike Schafer
The Journal • by George Fletcher
Window on the World • by Kevin McKinney
North American Intercity • by Karl Zimmerman
LeisureRail • by Ted & Sylvia Blishak
Rush Hour • by Michael Roberts
Mail, Express and L.C.L.
"
---