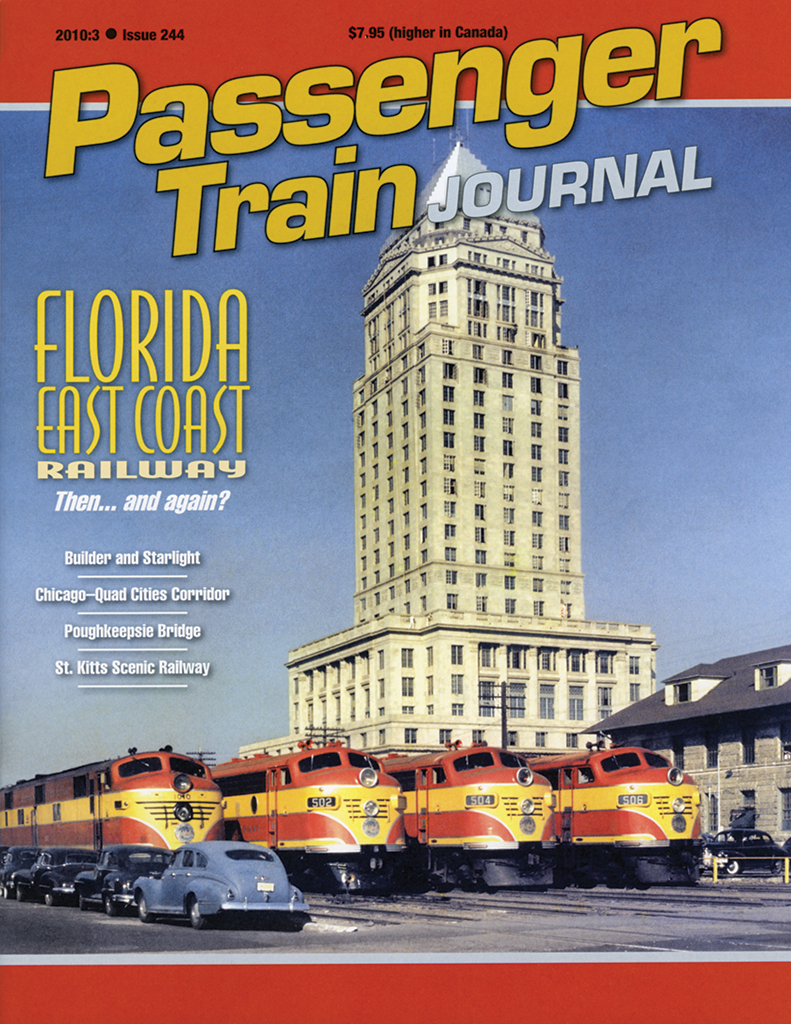 Passenger Train Journal Third Quarter 2010
Features:
How Good are Amtrak's Best? • by Karl Zimmermann — PTJ's on-the-go Contributing Editor samples two of Amtrak's most highly regarded trains, the Empire Builder and the Coast Starlight.
Passenger Train Revival in Northern Illinois? • by Mike Schafer — Part 2: PTJ resumes its look at a new crop of passenger trains slated for the Prairie State. In this issue: Chicago–Quad Cities.
The Florida East Coast Railway: Henry M. Flagler's Steel Boulevard to Sunshine • by Elbert Simon — The rise and fall of FEC's colorful passenger service between Jacksonville and Miami (and will passenger trains return?).
Trail Blazer: Taking a Walk Over the Hudson River • by Theodore W. Scull — The grand old New Haven bridge spanning on the world's greatest waterways takes on a new life.
LeisureRail: The St. Kitts Scenic Railway • by Ted & Sylvia Blishak — Bilevel train with rattan seats!
Departments:
On the Point • by Mike Schafer
The Journal • by George Fletcher
North American Intercity • by Karl Zimmerman
LeisureRail • by Ted & Sylvia Blishak
Window on the World • by Kevin McKinney
Rush Hour • by Michael Roberts
Mail, Express and L.C.L.
---