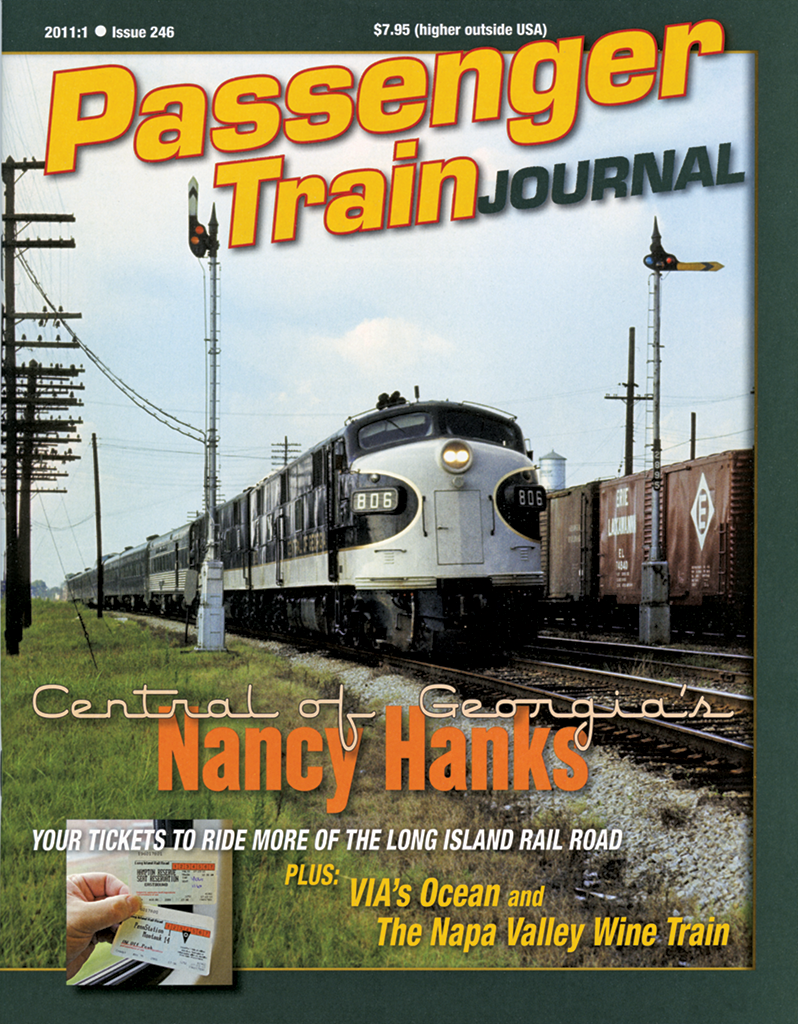 Passenger Train Journal First Quarter 2011
Features:
Anatomy of a Train Wreck • by Michael Connor — What went wrong in Ohio? A populated state in need of improved and expanded transport options dumps rail as being a cult" thing.
Intercity: Something Old, Something New • by Karl Zimmermann — Riding VIA's Ocean aboard both traditional Budd and new Renaissance consists.
Central of Georgia's Nancy Hanks • by Ed Mims, with the Central of Georgia Railway Historical Society — Georgia's own streamline, serving Savannah, Augusta and Atlanta.
From City to Shore (and Back Again): Long Island Rail Road, Part 2 • by Joseph M. Calisi — A look at the modern Long Island Rail Road of today following years of intense investment on infrastructure.
LeisureRail: The Napa Valley Wine Train • by Ted & Sylvia Blishak — This longtime favorite nestled in California's most famous wine-making region does not disappoint.
Departments:
On the Point • by Kevin McKinney
The Journal • by George Fletcher
North American Intercity • by Karl Zimmerman
Window on the World • by Kevin McKinney
Trip Report • by Mike Schafer
LeisureRail • by Ted & Sylvia Blishak
Rush Hour • by Michael Roberts
Mail, Express and L.C.L.
"
---