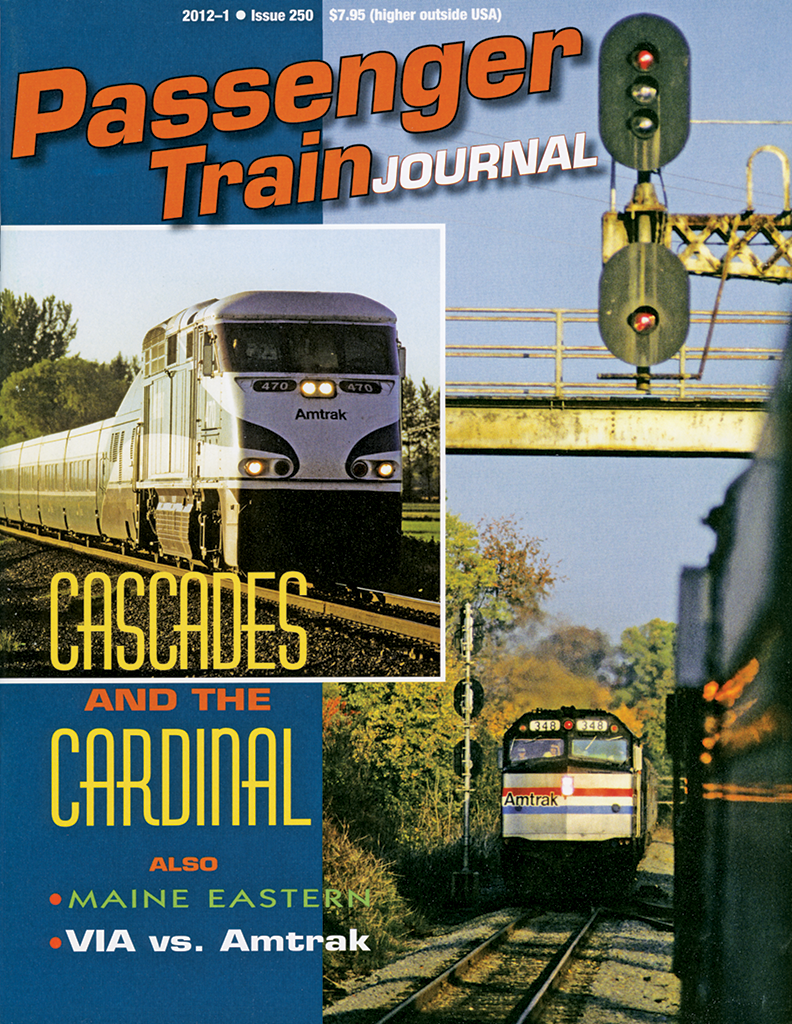 Passenger Train Journal First Quarter 2012
Features:
Amtrak's Drew Galloway •  by Joseph M. Calisi — PTJ interviews the Assistant Vice President of Amtrak's Northeast Corridor Infrastructure and Investment Group.
The Maine Eastern Railroad •  by Karl Zimmermann — The Maine Eastern is more than a tourist railroad. It can be a means of getting to your destination.
The Cardinal: Room With a View •  by Elbert Simon — A dome car returns to one of Amtrak's most interesting long-distance trains, evoking the convoluted history of this descendant of Chesapeake & Ohio's esteemed George Washington.
The Cascades Corridor •  by C.B. Hall — A report on a U.S. rail passenger corridor that is working its way to HSR status through incremental growth.
Trip Report: An Amtrak Veteran Meets VIA •  by Malcolm Kenton — Comparing U.S. Amtrak corridor service with that of VIA.
Departments:
On the Point  •  by Mike Schafer
The Journal  •  by George Fletcher
Window on the World •  by Kevin McKinney
North American Intercity  •  by Karl Zimmerman
Rush Hour •  by Brian Schmidt with Joseph M. Calisi
LeisureRail  •  by Ted & Sylvia Blishak
Going Faster •  by Ernest H. Robl
Capitol Unlimited •  by Robert J. Sterwart, NARP Chairman
Mail, Express and L.C.L.
---