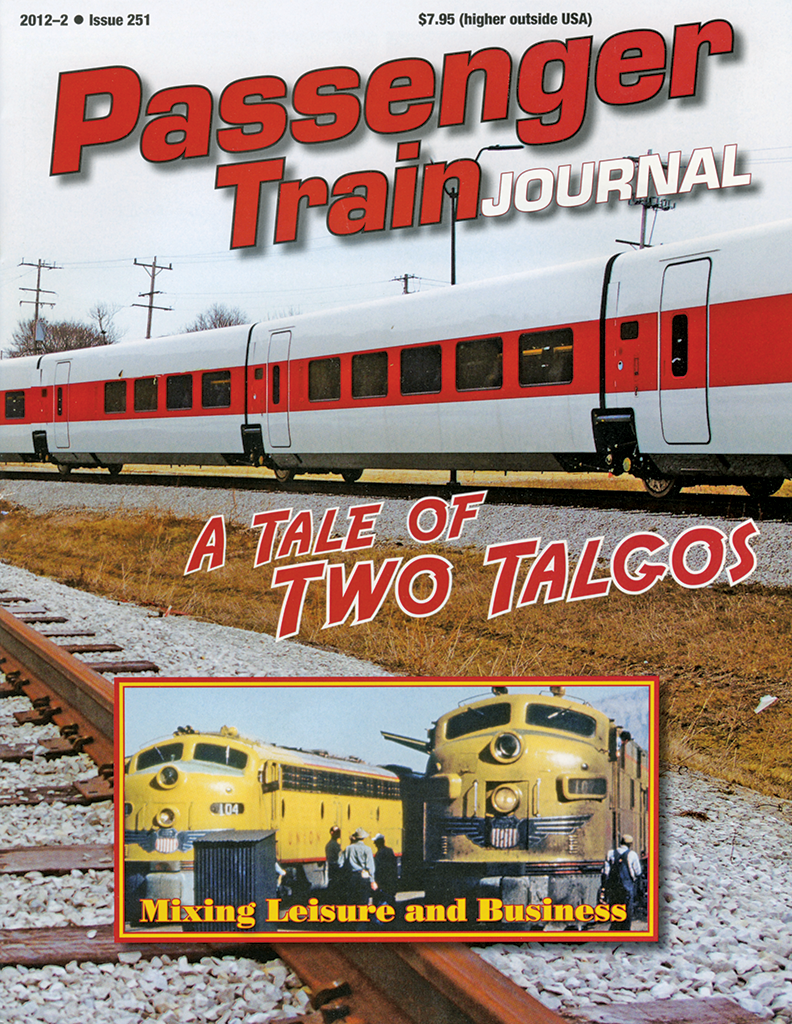 Passenger Train Journal Second Quarter 2012
Features:
Vermont Passenger Rail Keeps Rolling • by C.B. Hall — For a little state that didn't have passenger trains when Amtrak began in 1971, Vermont now plays big in the rail passenger arena.
Dark Clouds Over Ontario Northland • by Douglas N.W. Smith — If you haven't ridden the Ontario Northland's Northlander between Toronto and Cochrane, Ontario, this ear may be your last chance.
Trailblazer: An L" of a Rush(ed) Hour Ride! • by Bruce Stahl — A one-hour circle trip on Chicago's Loop "L" with stopovers.
A Tale of Two Talgos • by Mike Schafer — Wisonsin's costly decision to save money by going all-highway may have orphaned two new trains built in Milwaukee.
Mixing Leisure and Business • by Ted Blishak — Even for important business involving the 1941 bombing of Pearl Harbor, the Secretary of the Navy chose trains over a private flight.
Inside Wilmington Shops • by Mark Florio, with Robert A. LaMay — A brief glimpse of the modern world of Amtrak locomotives behind brick walls built in 1903.
Departments:
On the Point • by Mike Schafer
The Journal • by George Fletcher
North American Intercity • by Karl Zimmerman
Window on the World • by Kevin McKinney
Rush Hour • by Brian Schmidt with Joseph M. Calisi
Going Faster • by Ernest H. Robl
Capitol Unlimited • by Ross Capon, NARP President and CEO
Mail, Express and L.C.L.
"
---