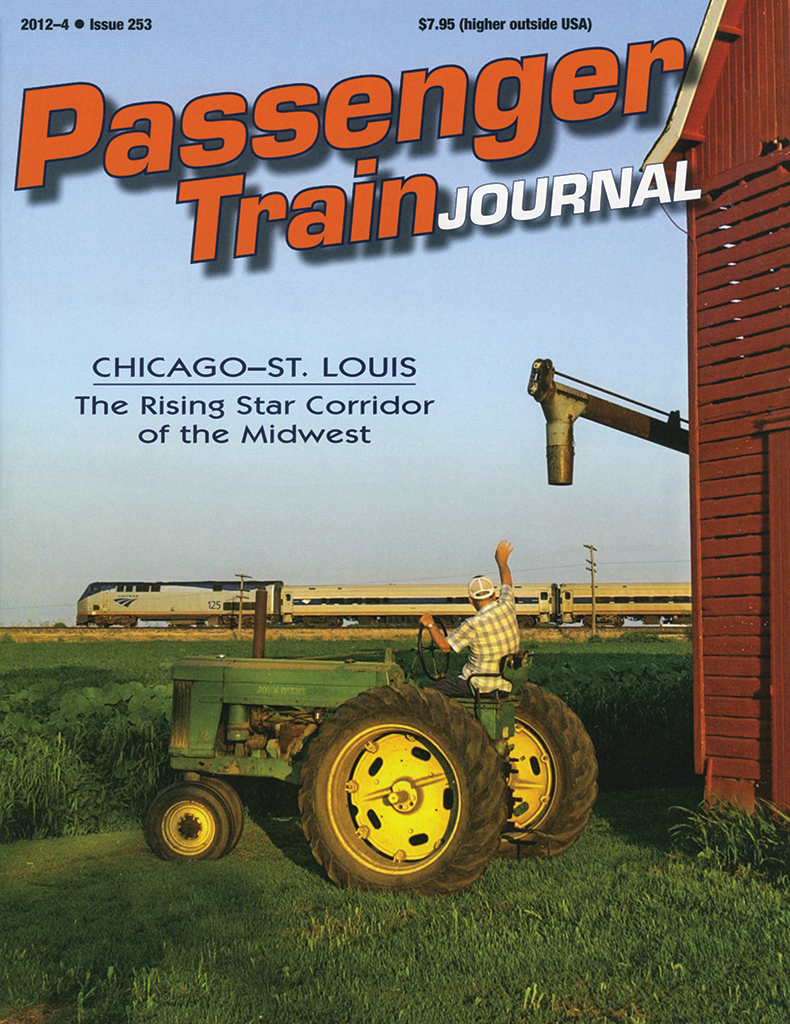 Passenger Train Journal Fourth Quarter 2012
Features:
Illinois in the Spotlight of Passenger Rail • by Mike Schafer and Bill Navigato — Two recent events propel the Prairie State into the limelight of advances in rail passenger service.
Florida Intercity Passenger Rail • by C.B. Hall — As Amtrak fumbles its strategies in one of its most potential markets, Florida East Coast sets out to do it right.
Chicago–Springfield–St. Louis • by Kevin McKinney with Mike Schafer — PTJ's corridor series continues with a look at one of the busiest travel corridors in the Midwest and how it has become a rising star in the nation's quest for higher-speed rail passenger service.
American Original • by Joe Welsh — The passenger-train artistry of J. Craig Thorpe.
Portland's New Central Loop • by Steve Morgan — Oregon's world-class premier city opens yet another segment of its growing network of light-rail and streetcar lines.
A Steam Engine—Just in Time for Christmas • by Ted & Sylvia Blishak — Two steam engines, in fact, play a part in spreading holiday cheer in the Pacific Northwest.
Departments:
On the Point • by Mike Schafer
The Journal • by George Fletcher
North American Intercity • by Karl Zimmerman
Window on the World • by Kevin McKinney
Going Faster • by Ernest H. Robl
LeisureRail • by Ted & Sylvia Blishak
Rush Hour • by Joseph M. Calisi
Capitol Unlimited • by Robert J. Stewart, NARP Chairman
Mail, Express and L.C.L.
---