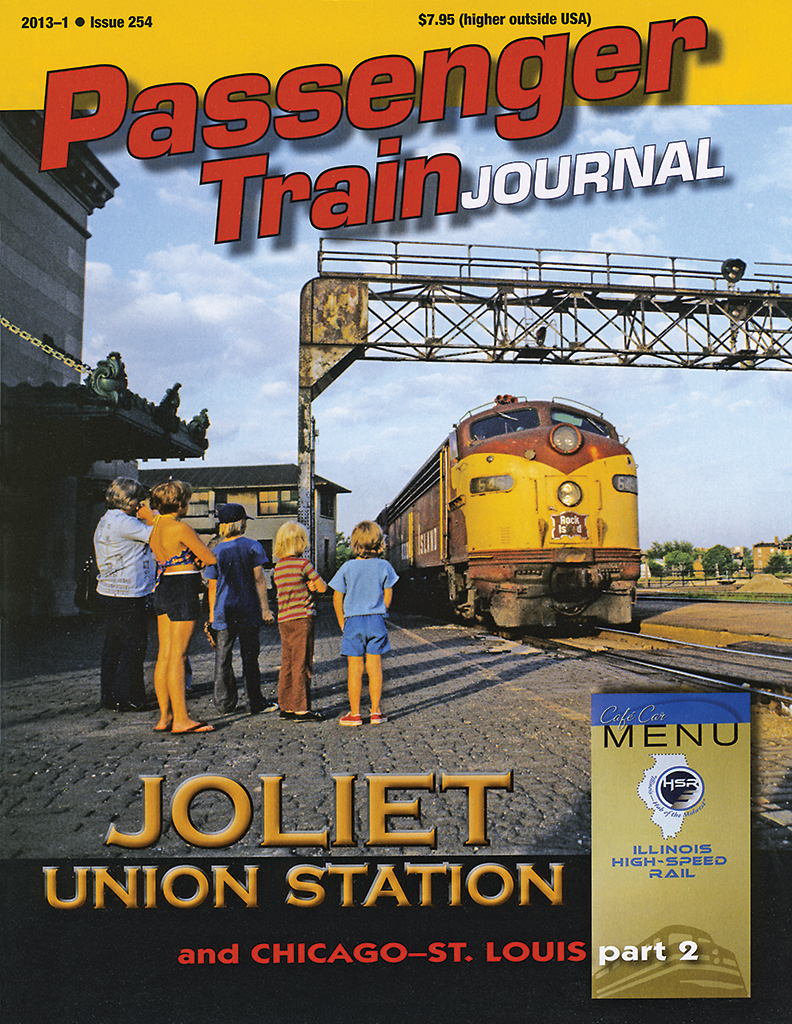 Passenger Train Journal First Quarter 2013
Features:
Amtrak Returns to Norfolk • by Elbert Simon — Virginia's Hampton Roads region gets another train, but on a new route.
Southwest Chief: It's the Money Not the Sentiments • by C.B. Hall — Might Amtrak's Chief switch to the San Fransisco Chief route of yore?
The Janus Season • by Karl Zimmermann — Looking back; looking forward. Six years of introspect.
Goodbye Ticket Punch; Hello Travel Document Scan • by Malcom Kenton — Amtrak implements eTicketing systemwide, bringing benefits as well as important policy changes.
Chicago–Springfield–St. Louis, Part 2 • by Kevin McKinney with Mike Schafer — The (long and slow) rebirth of a corridor.
Joliet Union Station • by Joe Petric — A 100-year-old depot rolls into its second century.
Departments:
On the Point • by Mike Schafer
The Journal • by George Fletcher
Window on the World • by Kevin McKinney
North American Intercity • by Karl Zimmerman
LeisureRail • by Edy Henderson, guest columnist
Rush Hour • by Joseph M. Calisi
Going Faster • by Ernest H. Robl
Capitol Unlimited • by Robert J. Stewart, NARP Chairman
Mail, Express and L.C.L.
---