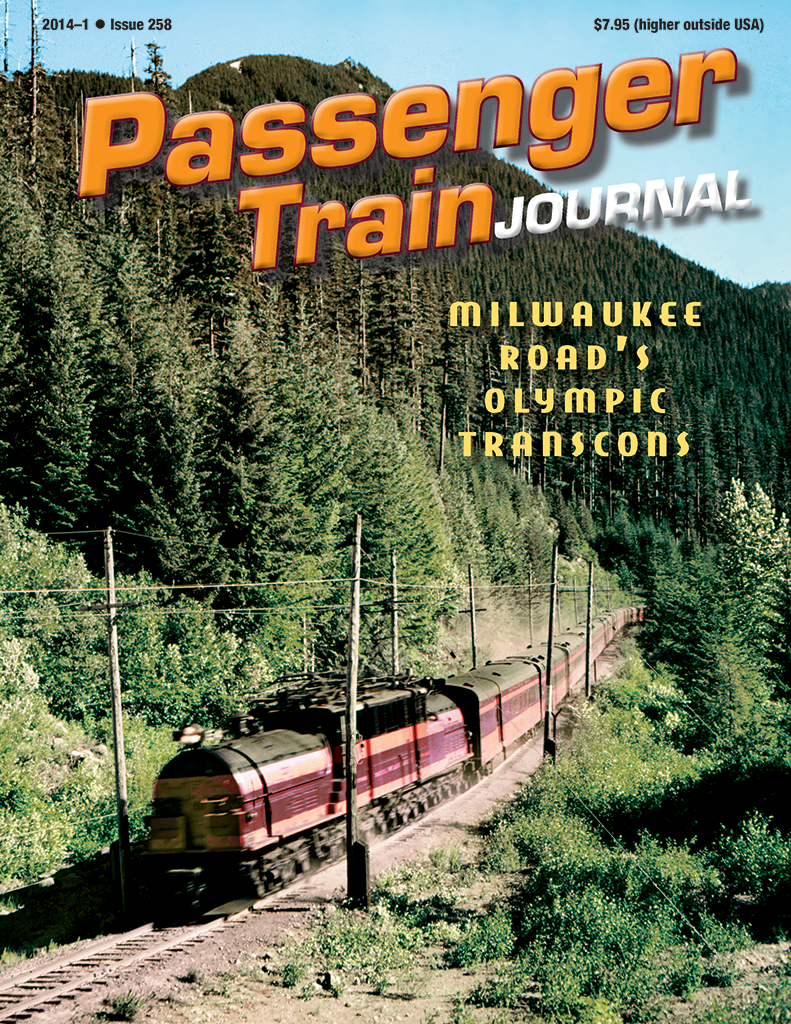 Passenger Train Journal First Quarter 2014
Features:
A Great Thanksgiving Show for Amtrak, Changes are in the Wind • by El Simon — Amtrak was again well-prepared to handle its annual biggest travel event of the year," the five-day Thanksgiving weekend rush.
More Rooms with Views • by El Simon — A whole new fleet of single-level Vewliner cars emerges from a former bridge-component manufacturing plant in Hornell, N.Y.
Acela Sisters • by Karl Zimmermann — Compared to their overseas counterparts, Amtrak's Acelas can hardly compete in terms of speed, but they do win on other categories.
Olympic Transcons of The Milwaukee Road • by Greg Stout — Great Northern and Northern Pacific didn't have a monopoly on transcontinental service across the northern tier of the U.S. And Milwaukee Road's entries in the field needed no apologies.
Amtrak Expansion: Not So Bad a Dream?—Part 1 • by C.B. Hall — With advice from other contemporaries in the field of rail passenger service, PTJ explores options of how Amtrak might expand service with little or no new equipment.
Departments:
On the Point • by Mike Schafer
The Journal • by George Fletcher
North American Intercity • by Karl Zimmerman
Capitol Unlimited • by Ross Capon, NARP President & CEO
Rush Hour • by Kevin McKinney with Joseph M. Calisi
LeisureRail • by Ted & Sylvia Blishak
Window on the World • by Kevin McKinney
Mail, Express and L.C.L.
"
---