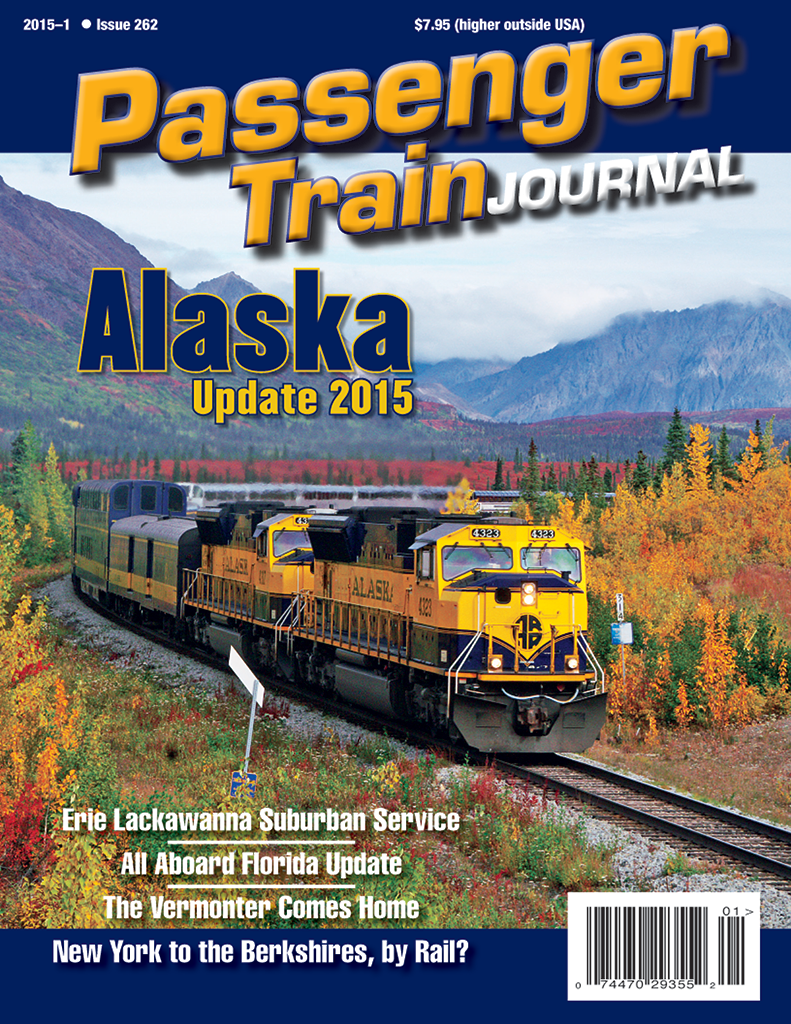 Passenger Train Journal First Quarter 2015
Features:
Brave New World • by Karl Zimmermann — Finally, PTJ gets a look at VIA Rail's newly remodeled Prestige Class equipment for the Canadian.
The Vermonter Comes Home • by C.B. Hall — After a lapse of 17 years, Amtrak's Vermonter returns to its original route through Northampton and Greenfield, Mass.
Housatonic Passenger Rail • by C.B. Hall — A move is under way to restore service between New York City and Pittsfield, Mass, via Danbury and Canaan, Conn.
Alaska Update 2015 • by Frank Keller — The Alaska Railroad's ever-evolving passenger operations, tailored to visitors but also serving the local population, keep the ARR at the forefront of the U.S. passenger-train scene.
15 Years of Passenger Service on the Erie Lackawanna—Part 2 • by El Simon — EL offered a comprehensive network of suburban/commuter service in northern New Jersey and Orange County, N.Y.
All Aboard Florida Moves Forward • by El Simon — Construction of new depots is about to start on the Florida East Coast at Miami, West Palm Beach, and Fort Lauderdale.
Departments:
Capitol Unlimited • by Jim Matthews, NARP President & CEO
LeisureRail • by Ted & Sylvia Blishak
Mail, Express and L.C.L.
North American Intercity • by Karl Zimmerman
On the Point • by Mike Schafer
Rush Hour • by Kevin McKinney with Joseph M. Calisi
The Journal • by George Fletcher
Window on the World • by Kevin McKinney
---