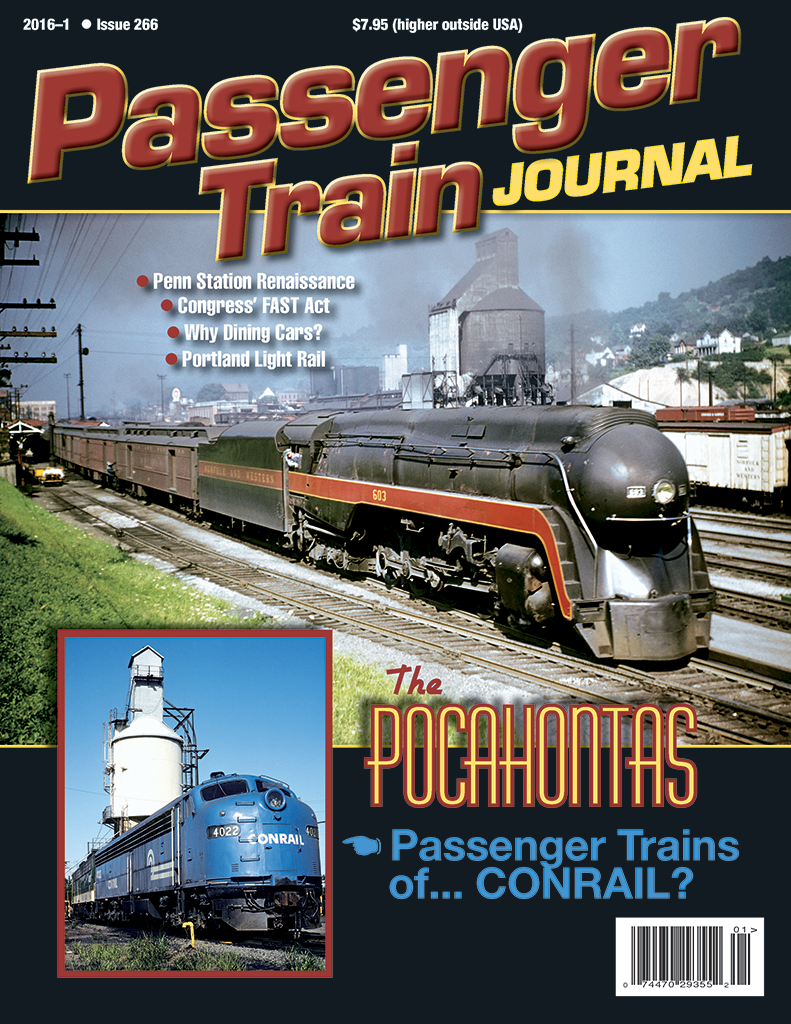 Passenger Train Journal First Quarter 2016
Features:
Miracle on 33rd Street: The Empire Station Complex • by Joseph M. Calisi — New York Gov. Andrew Cuomo unveils the latest plan for developing Penn Station and the Farley Post Office Building into a world-class transportation center.
Meals on (Flanged) Wheels: Why Dining cars? • by Karl Zimmermann — Looking into Amtrak's dining-car situation and why dining cars play a key role to the success of long-distance trains.
The Fast Act—A Glass Half Full • by C.B. Hall — Finally, Congress realizes that rail has a role in U.S. transportation, but it still has a way to go before it understands it.
Coal Country Queen: The Pocahontas • by Willie Davis — How Norfolk & Western's Number Two train serving Norfolk and points west became Number One.
Conrail Passenger Service • by Elbert Simon — Created to revamp rail freight service in the Northeast and Upper Midwest, the new carrier got stuck with some passenger trains, too.
LRT Growth Continues in Portland... • by Kevin McKinney, Joseph M. Calisi, Steve Morgan — ... and other Rush Hour reports and updates on transit in North America.
Departments:
Capitol Unlimited • by Jim Matthews, NARP President & CEO
LeisureRail • by Ted & Sylvia Blishak
Mail, Express and L.C.L.
North American Intercity • by Karl Zimmerman
On the Point • by Mike Schafer
Rush Hour • by Kevin McKinney with Joseph M. Calisi
The Journal • by George Fletcher
Window on the World • by Kevin McKinney
---