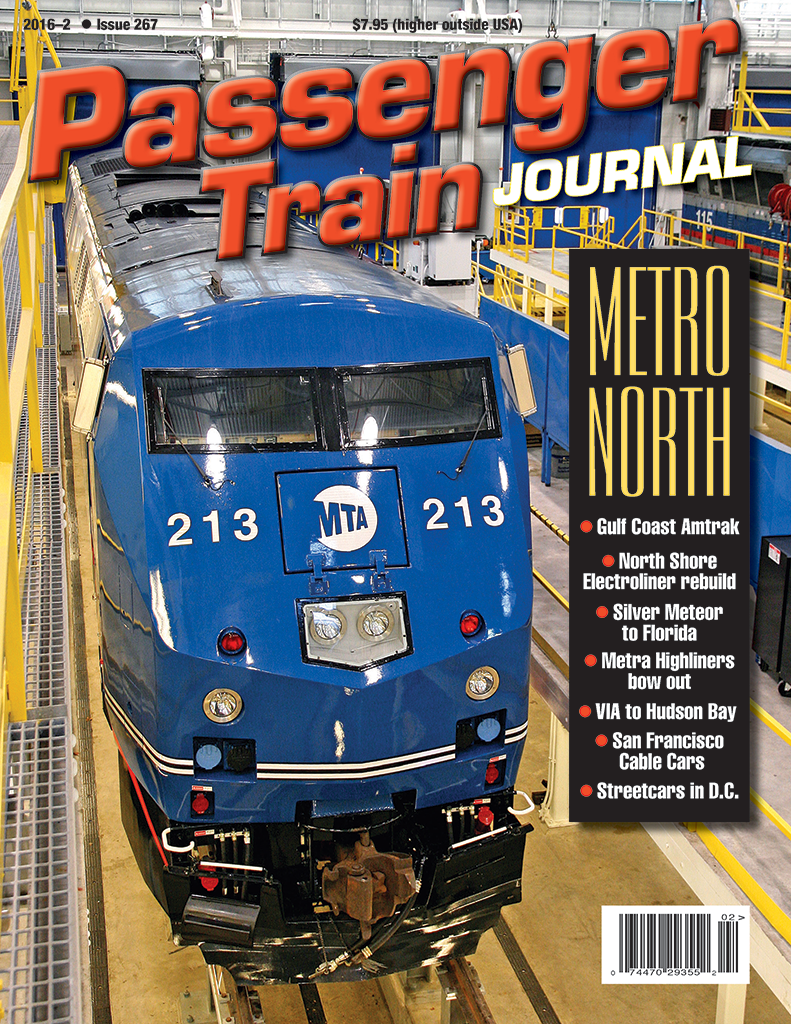 Passenger Train Journal Second Quarter 2016
Features:
Gulf Coast Reconnaissance • by Marc Glucksman — Amtrak finally acknowledges the call to revive service between New Orleans and Florida by running a highly successful inspection trip.
Karl and Mike's Most-of-the-Time Excellent Adventure • by Karl Zimmermann — Columnist Zimmermann and the PTJ editor sample travel from the Northeast to and from Florida, with mixed yet similar results.
Chicago's Highliners Bow Out on a High Note • by Elbert Simon — Metra's veteran, ex-Illinois Central electric bilevel commuter cars ride into the sunset as new bilevels arrive from Nippon's plant at Rochelle, Illinois.
Metro-North Railroad, Part 1 • by Kent Patterson — The rags-to-riches story of the nearly impossible task of revamping north-of-New York City commuter-rail operations.
Trip Report: Northward to Hudson Bay • by James Armstrong — One couple's account of traveling to the most remote outpost of VIA Rail Canada's system.
Streetcars roll again in the nation's capital • by Kevin Mckinney, Joseph M. Calisi — ... and other Rush Hour reports and updates on transit in North America.
Departments:
Capitol Unlimited • by Jim Matthews, NARP President & CEO
LeisureRail • by Ted & Sylvia Blishak
Mail, Express and L.C.L.
North American Intercity • by Karl Zimmerman
On the Point • by Mike Schafer
Rush Hour • by Kevin McKinney with Joseph M. Calisi
The Journal • by George Fletcher
Window on the World • by Kevin McKinney
---