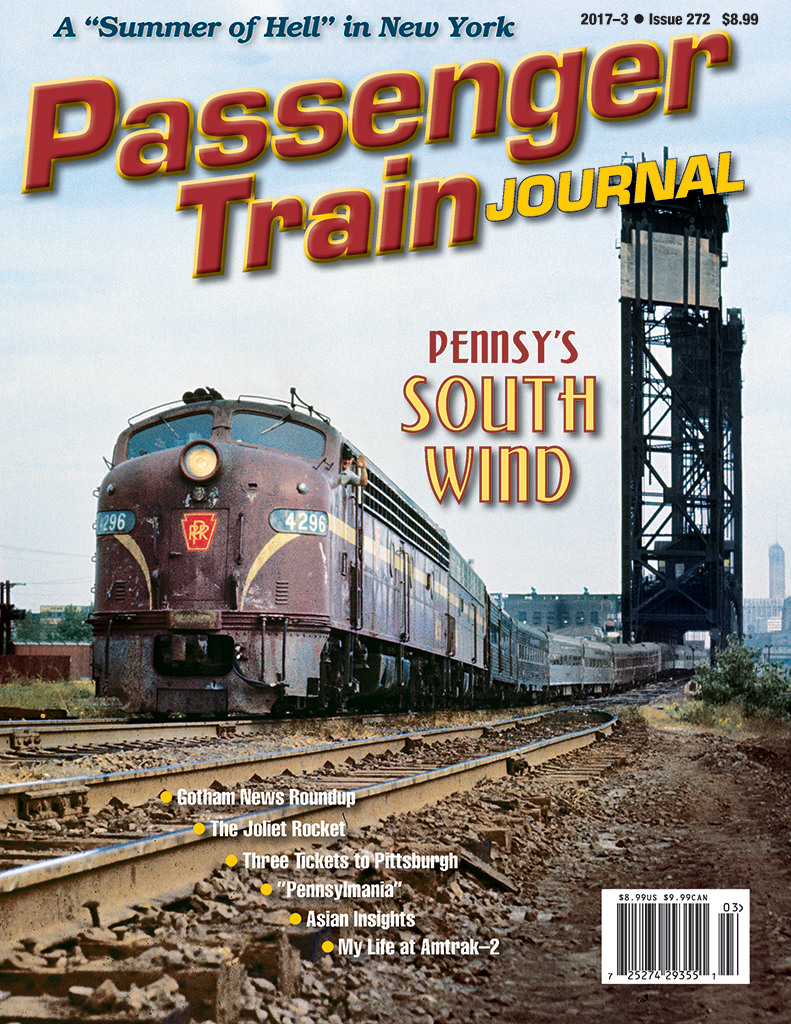 Passenger Train Journal Third Quarter 2017
Features:
Gotham News Round-up • by Joe Calisi — New York City is in the news these days in the realm of rail passenger service. We provide readers with a slice of the current problems and perils of passenger railroading in the Big Apple.
The Joliet Rocket • by Marc Glucksman with Mike Schafer — Nickel Plate Road steam returns to Chicago's La Salle Street Station for the first time in close to 60 years.
Three Tickets to Pittsburgh • by Bennett Levin — How to win friends and influence state representatives.
The South Wind • by John Kilbride — The Pennsylvania Railroad's oddball train that went north and south instead of east and west.
Asian Insights • by Kevin J. Holland — How rail transit keeps people moving in Hong Kong and Nagasaki.
My Life at Amtrak–Part 2 • by Ira Silverman — A teamlike atmosphere fosters the growth of new ideas and projects—such as Auto Train—at a young Amtrak.
Expanding Passenger Rail in the Pine Tree State • by Run/Richard Rudolph — Rail Users' Network shares with readers upcoming projects for improved intercity, regional, and commuter services, in this issue focusing on southern Maine.
Departments:
Capitol Unlimited • by Jim Matthews, NARP President & CEO
LeisureRail • by Ted & Sylvia Blishak
Mail, Express and L.C.L.
North American Intercity • by Karl Zimmerman
On the Point • by Mike Schafer
Rail Users Network • by Richard Rudolph, Ph.D, Chairman, Rail User's Network
Rush Hour • by Kevin McKinney with Joseph M. Calisi
The Journal • by George Fletcher
Window on the World • by Kevin McKinney
---