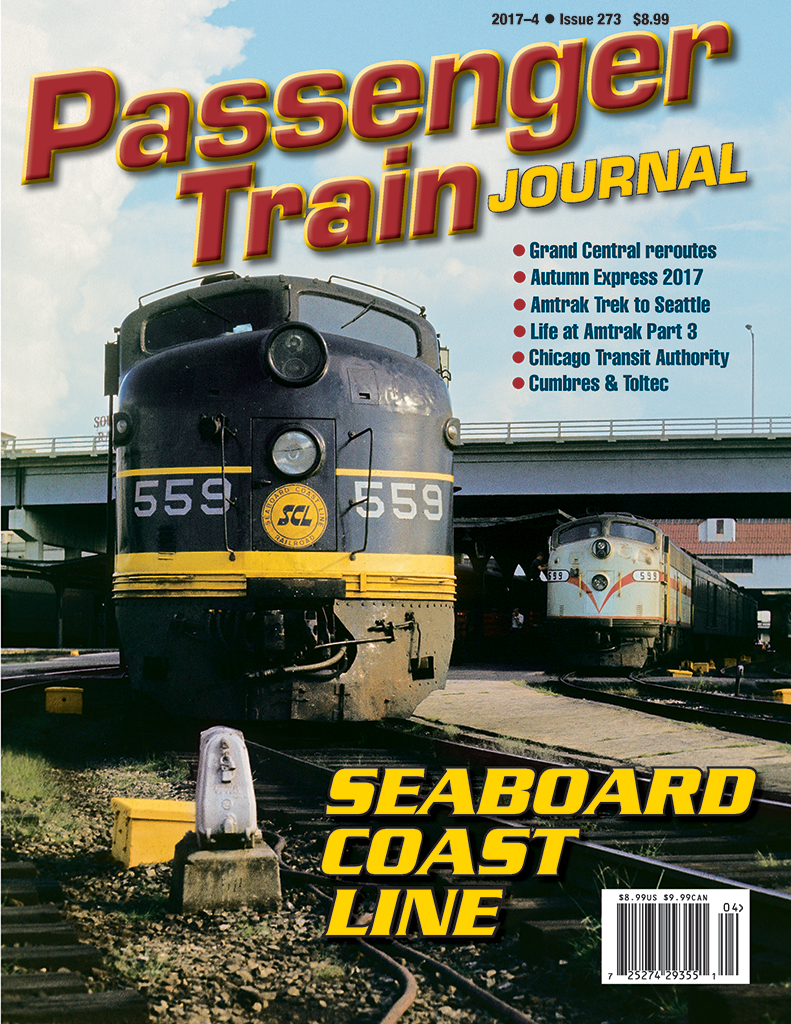 Passenger Train Journal Fourth Quarter 2017
Features:
Amtrak's Summer of Grand Central • by Marc Glucksman — Amtrak for a time returns to the hallowed halls of New York's Grand Central Terminal. How it worked and might have to work again.
Autumn Express 2017: Hudson River Loop • by Chris Jagodzinski — Amtrak's Autumn Express for 2017 hugged both shores of the Hudson River.
An Amtrek • by Karl Zimmermann — New York–Washington–Chicago–Portland–Seattle: It could be better, it could be worse.
My Life at Amtrak–Part 3 • by Ira Silverman — New equipment, new ideas, and new names change the face of Amtrak.
Seaboard Coast Line Passenger Service • by W. Reid Adams — Unlike Penn Central and Burlington Northern, a merger that worked well for passengers.
Chicago Transit Authority at 70 • by Lou Gerard — A colorful history, a variety of operating venues, and constant change make this transit system one of the most fascinating.
Departments:
Capitol Unlimited • by Jim Matthews, NARP President & CEO
LeisureRail • by Ted & Sylvia Blishak
Mail, Express and L.C.L.
North American Intercity • by Karl Zimmerman
On the Point • by Mike Schafer
Rail Users Network • by Richard Rudolph, Ph.D, Chairman, Rail User's Network
Rush Hour • by Kevin McKinney with Joseph M. Calisi
The Journal • by George Fletcher
Window on the World • by Kevin McKinney
---