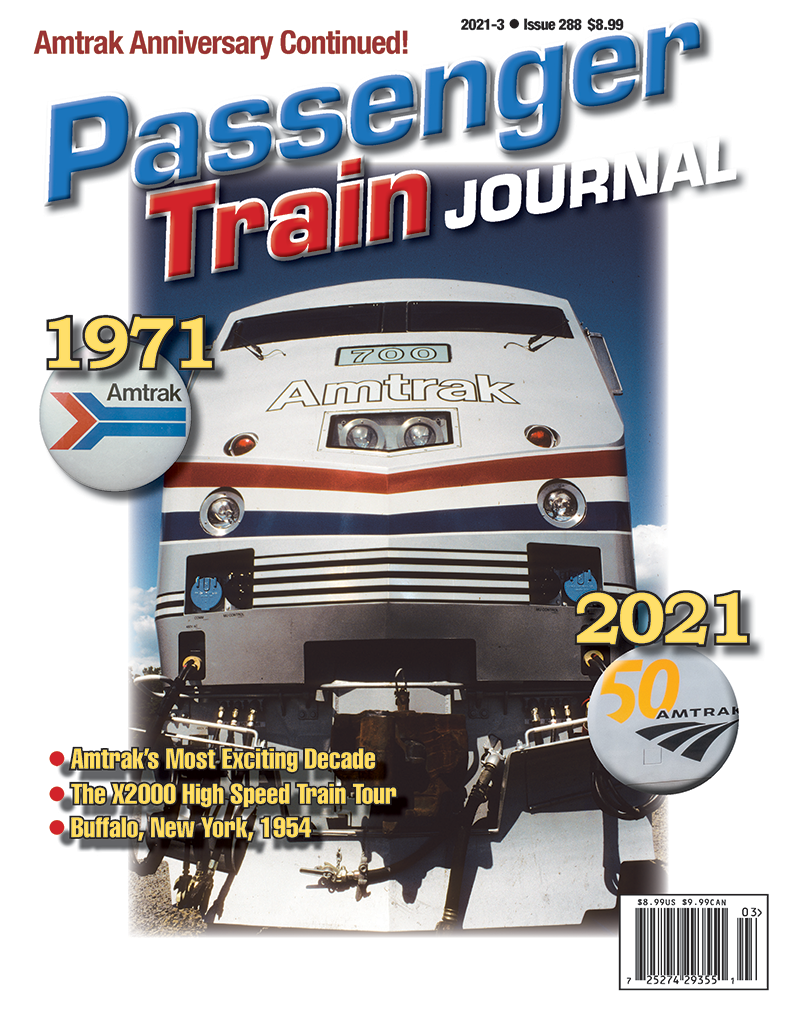 Passenger Train Journal Third Quarter 2021
Features:
Are Happy Days Here Again? • by Mike Schafer and Marc Glucksman — Amtrak provides the media with an upbeat look at the carrier's future.
Intercity: Buffalo, N.Y., 1954 • by Kevin McKinney — PTJ founder Kevin McKinney looks at the complex overnight switching operations of Buffalo Central Terminal.
Easy Come, Easy Go: Some Gains and Losses Over Amtrak's Half-Century • by Karl Zimmermann — PTJ Contributing Editor Karl Zimmermann overviews the often bumpy ride Amtrak has had between 1971 and 2021.
The X2000 Demonstration Tour Revisited • by Bill Dean and Joe Silien — In the early 1990s, a high-speed train of Swedish design was shipped across the Atlantic for testing on Amtrak's Northeast Corridor and touring the country to familiarize the public with what the future may hold in U.S. rail travel.
Amtrak's Most Exciting Decade: 1971–1981 • by Kevin McKinney — If there ever was a period of time in Amtrak's life that stood above the rest, it had to be the carrier's first decade when it went from rags to riches.
An Interview With Roger Harris • by David Kriso — In his third year with Amtrak, the company's Executive Vice President and Chief Marketing and Revenue Officer ponders the past, present, and future of America's Railroad.
Departments:
Capitol Unlimited • by Jim Matthews, NARP President & CEO
Mail, Express and L.C.L.
North American Intercity • by Kevin McKinney
On the Point • by Mike Schafer
Rail Users Network • by Richard Rudolph, Ph.D, Chairman, Rail User's Network
Rush Hour • by Kevin McKinney
The Journal • by Kevin McKinney
Window on the World • by Kevin McKinney
---