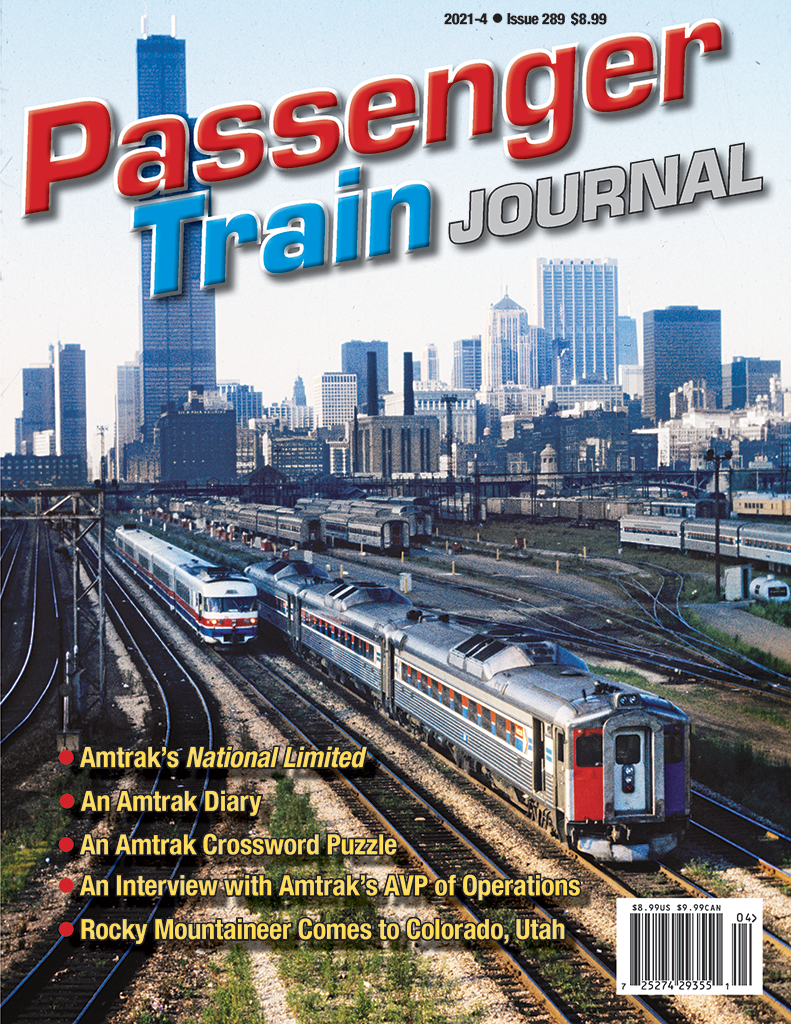 Passenger Train Journal Fourth Quarter 2021
Features:
From the Rockies to the Red Rocks • by Tom Savio — Cruise-train operator Rocky Mountaineer Ltd. adds another run to its U.S. operations, this time in the Colorado Rockies and Utah's Red Rocks.
NO National Priority • by Craig Sanders — The sad story of Amtrak's National Limited, a train that made all the sense in the world, but was done in by bad track and a failing host railroad—Penn Central.
An Interview with Chris Jagodzinski • by Mike Schafer — Amtrak's Assistant Vice President of Operations, this multi-talented man has been with Amtrak for 32 years. Here's his fascinating story as told to PTJ's editor.
Three 1971 Passenger Startups at Milepost 50 • by Bill Anderson — A transportation businessman compares three passenger-carrying new starts in 1971—Amtrak, Auto-Train, and Southwest Airlines— and where they stand today.
Jonesy's Big Adventure—Part 1 • by Mark Jones — A fifth-grader in 1974 becomes entranced with his hometown Amtrak train and today is an engineer on Amtrak's California Zephyr. Here's the engaging story of his 48-year railroading career.
PTJ's 50th Anniversary Amtrak Crossword Puzzle • by George Fletcher — Believed to be the first-ever crossword puzzle in PTJ.
Departments:
Capitol Unlimitedby Jim Matthews, NARP President & CEO
Mail, Express and L.C.L.
Intercity • by Kevin McKinney
On the Point • by Mike Schafer
Rush Hourby Kevin McKinney with Marc Glucksman
The Journal • by Kevin McKinney
Window on the World • by Kevin McKinney
---