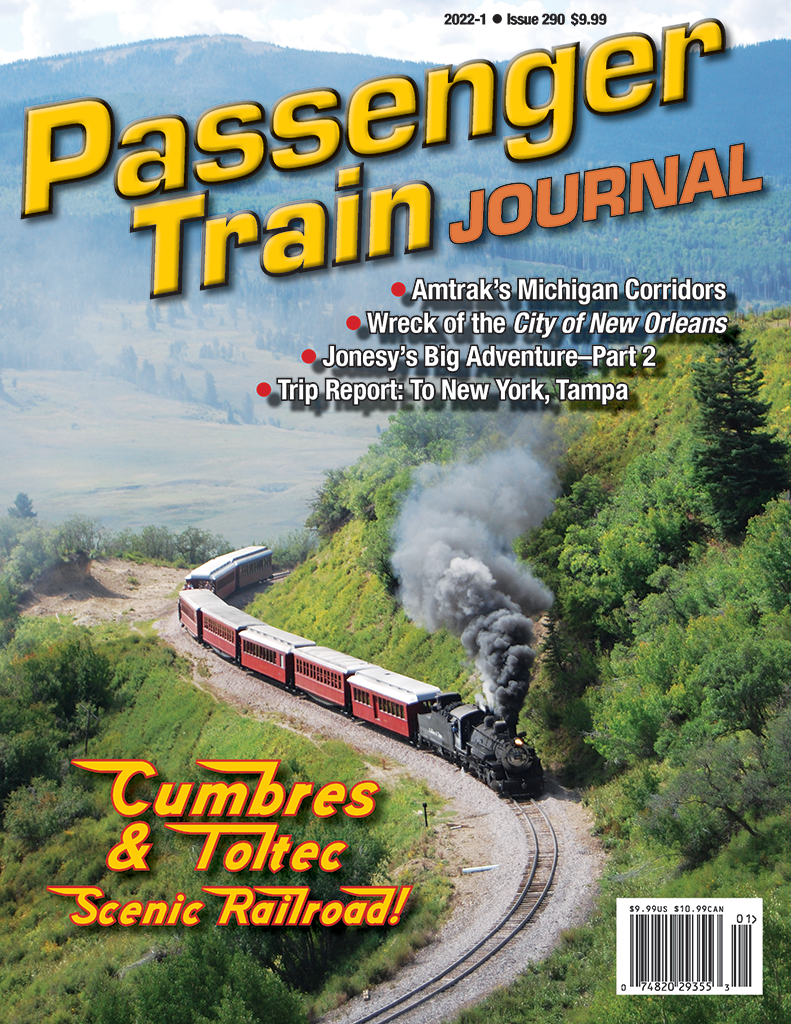 Passenger Train Journal First Quarter 2022
Features:
PTJ Rides the Terminal Railroad Association of St. Louis • by Mike Schafer — This railroad has a long history in terms of passenger trains serving metro St. Louis and welcomes "rare mileage" collectors.
The Michigan Corridors and Beyond–Part 1 • by Kevin McKinney — In our ongoing coverage of North American rail passenger corridors, here's an updated history of Amtrak's Chicago–Detroit/Grand Rapids/Port Huron routes.
Cumbres & Toltec Scenic Railroad • by Karl Zimmermann — This spectacular former Denver & Rio Grande Western narrowgauge line celebrated its 50th anniversary in 2021.
The Wreck of the City of New Orleans • by Robert P. Schmidt — Amtrak was less than two months old when the newborn carrier experienced its first major wreck. For want of a simple nail, ten lives were lost.
Jonesy's Big Adventure—Part 2 • by Mark Jones — In this second installment of Mark Jones' career with Amtrak, readers will join him on some of his early runs as a dining-car waiter and car attendant.
Trip Report: North Carolina north to New York and south to Tampa • by Kevin McKinney — PTJ's founder travels to Washington and New York as well as to Tampa starting on Amtrak's 50th birthday.
Departments:
Capitol Unlimited • by Jim Matthews, NARP President & CEO
Intercity • by Kevin McKinney
Mail, Express and L.C.L. • by Mike Schafer
On the Point • by Mike Schafer
Rush Hour • by Kevin McKinney
The Journal • by Kevin McKinney
Window on the World • by Kevin McKinney
---