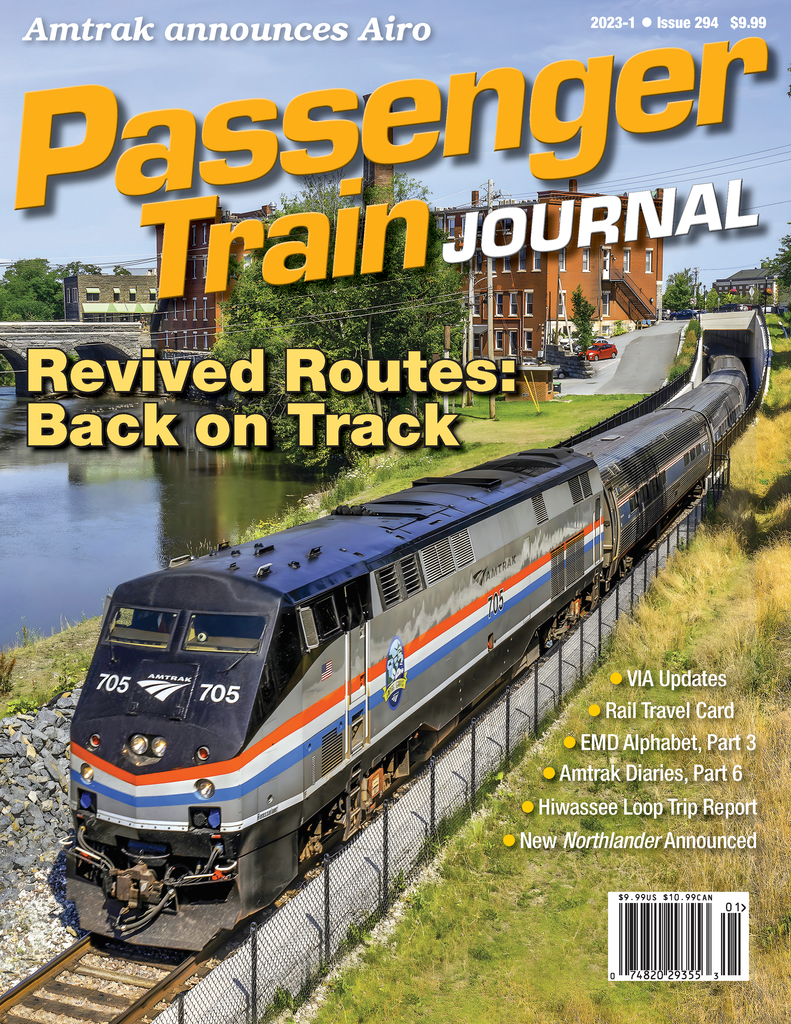 Passenger Train Journal First Quarter 2023
Features:
Journal spotlight • Amtrak announces Airo • Siemens trains for Ontario Northland • Canada's High-Frequency Rail: Boon or boondoggle? • Amtrak service failures increase in 2022
Back on Track • by Joseph P. Schwieterman — Restoring passenger service after abandonment.
Credit Where Credit Was Due • by Karl Zimmermann — Rail Travel Card reminiscences.
Trip Report: Hiwassee Loop • by Jack M. Turner — A scenic ride over "The Hook and Eye Line."
Jonesy's Big Adventure, Part 6 • by Mark W. Jones — A final Amtrak diner trip, and a Chicago & North Western adventure.
Electro-Motive's Alphabet, Part 3 • by Kevin J. Holland — Concluding our centennial survey of EMC and EMD passenger diesels.
Departments:
Mail, Express and L.C.L.
North American Intercity • by Kevin McKinney
On the Point • by Kevin J. Holland
Rail Users Network • by Richard Rudolph, Ph.D, Chairman, Rail User's Network
Rush Hour • by Kevin McKinney
Rush Hour Northeast • by Scott Ornstein
The Journal • by Kevin McKinney
Transport Action Canada
Window on the World • by Kevin McKinney
---