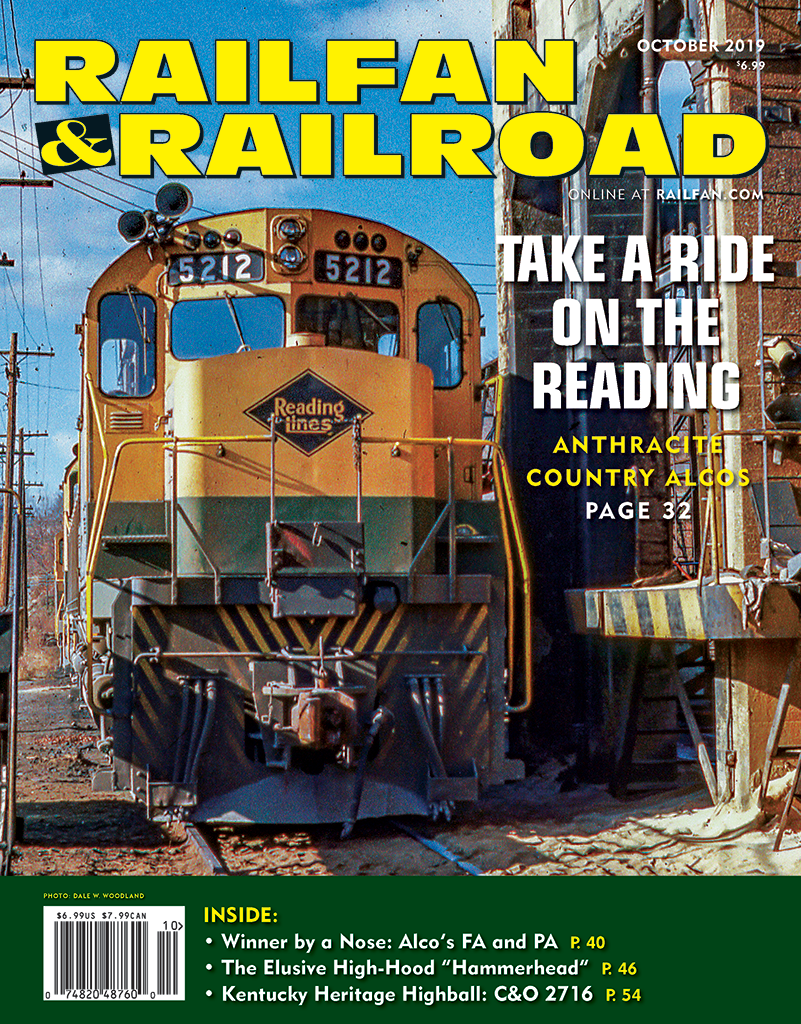 Railfan & Railroad October 2019
Features:
Anthracite Country Alcos • by Dale W. Woodland — Reading Company employed a robust fleet of Alco power going all the way back to the 1920s. From early box cabs to the modern Century series, we recall the colorful Alco fleet that once hauled coal from the mines of eastern Pennsylvania.
Winner by a Nose: Alco's FA and PA • by Brian Lazarus — Looking to compete in the postwar streamliner era, Alco turned to partner General Electric to style its series of FA and PA locomotives.
The Elusive Hammerhead • by Gordon Lloyd Jr. — Alco produced a high-hood variant of its popular road switcher for only three railroads. Now, only one example survives in captivity.
Kentucky Heritage Highball • by Tyler Hardin — Thanks to generous cooperation from CSX and R.J. Corman, Chesapeake & Ohio 2716 was safely moved to its new home.
Fall Rush Through Flathead • by Bruce E. Kelly — This Montana bypass combines a busy main line, stunning scenery, and one of the longest tunnels in North America.
Departments:
Capitol Lines/commentary from Washington: Don Phillips
Departures/commentary: Alexander Benjamin Craghead
High Iron/railroaders share their stories: Tom Carver
LocoNotes/diesel spotters: Kenneth M. Ardinger
Markers/additional thoughts from your editors
On The Menu/railroad dining, art, and culture: James D. Porterfield
Parting Shot/Jackson Glozer
Preservation Topics/this stuff is old, man: Jim Rowland
Railnews/top news stories and photos from our readers
Railroadiana/new product, book, and video reviews
Through My Lens/trackside memories: Kevin EuDaly
Timetable/railroad event listings submitted by our readers
Transit Currents/transit news: Bob Gallegos
---