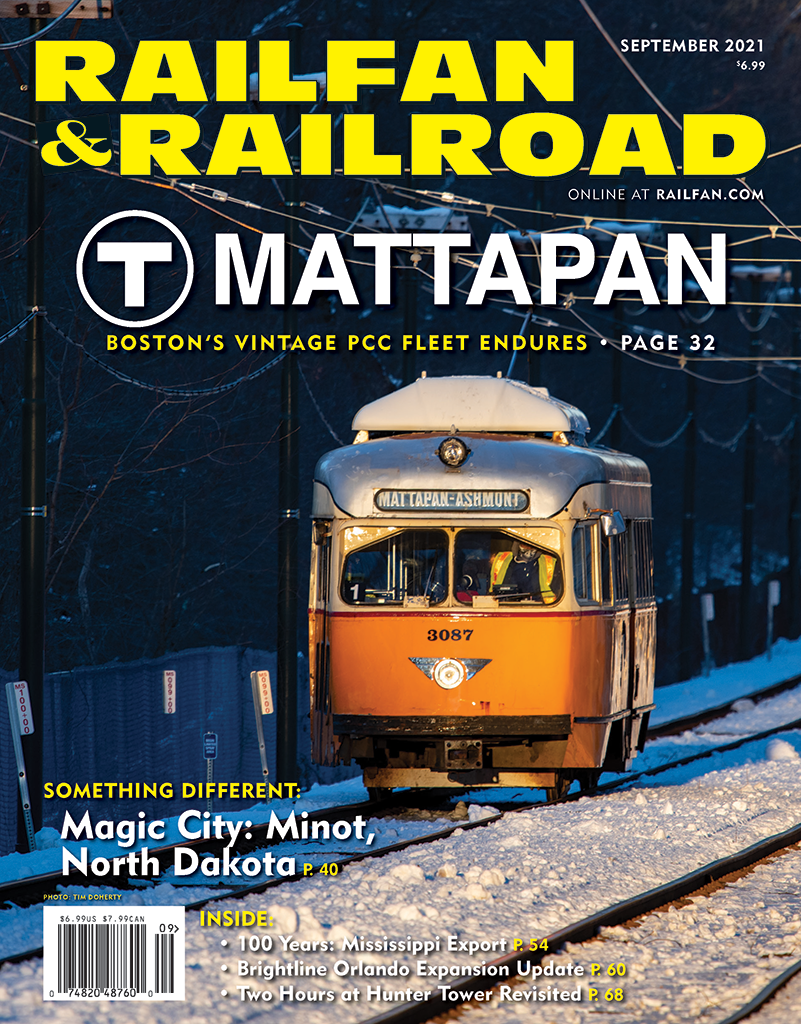 Railfan & Railroad September 2021
Features:
Mattapan • by Tim Doherty — The sole survivors of Boston's PCC trolley fleet get a reprieve and a plan for preservation from MBTA... for now.
Why Not Minot? • by Jeremy Siembida — This busy convergence of former Great Northern and Soo Line operations has much for the visiting railfan.
Portraits of Railroading • by James D. Porterfield — Railroad artists share works that hold special meaning to them as we travel "Down Memory Lane."
Mississippi Export • by Isaac Fulford — This successful family-owned short line celebrates 100 years of independence and growth.
Brightline Orlando Expansion Update • by Austin Strenecky — Florida's innovative Brightline service is in the midst of an aggressive expansion west to Orlando (and Tampa).
Hunter Rush Hour Revisited • by Otto M. Vondrak — In 1976, Jim Boyd spent two hours at a busy junction in Newark, N.J., to record a commuter rush hour full of variety.
Departments:
Capitol Lines/commentary from Washington: Don Phillips
Departures/commentary: Alexander Benjamin Craghead
LocoNotes/diesel spotters: Kenneth M. Ardinger
Markers/additional thoughts from your editors
On The Menu/railroad dining, art, and culture: James D. Porterfield
Parting Shot/Blair Kooistra
Railnews/top news stories and photos from our readers
Railroadiana/new product, book, and video reviews
Scan Man/the world of railroad radio: Vincent Reh
Through My Lens/trackside memories: Kevin EuDaly
Timetable/railroad event listings submitted by our readers
Transit Currents/transit news: Bob Gallegos
---