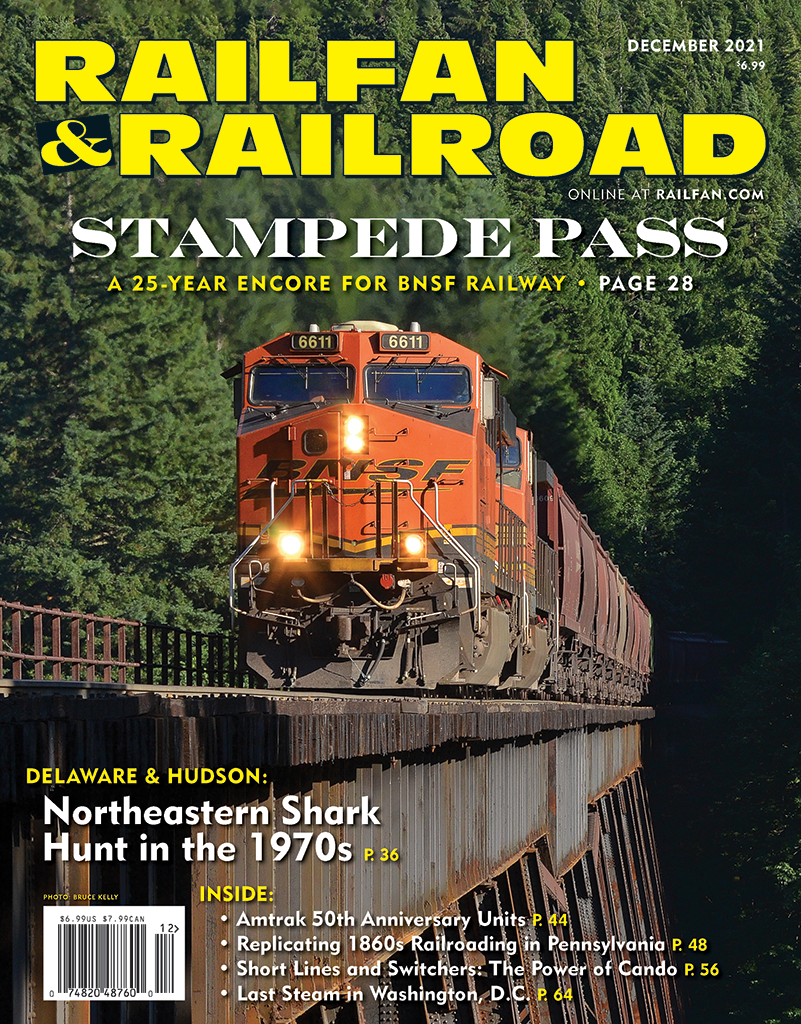 Railfan & Railroad December 2021
Features:
Endless Encore on Stampede Pass • by Bruce Kelly — Stampede Pass reopened 25 years ago, bringing back a vital route for western freight traffic for BNSF.
Shark Hunt • by Dale W. Woodland — Hunting for Delaware & Hudson's rare Baldwin RF-16s.
The Irvin S. Cobb at Vine Grove • by Ron Flanary — A painting inspired by a memory of a Kentucky hometown.
Amtrak 50th Anniversary Units • by Michael T. Burkhart — Seeking out celebratory diesels now in service.
Riding the Rails of Lincoln • by Kurt R. Bell — Recreating 1860s railroading on a Pennsylvania farm.
The Power of Cando • by Steve C. Bradley — An ever-expanding Canadian rail service empire.
Last Steam in D.C. • by William E. Hopkins — Last gasp for steam in the nation's capitol in the 1950s.
Departments:
Camera Bag/tips and techniques: Dennis A. Livesey
Capitol Lines/commentary from Washington: Don Phillips
Departures/commentary: Alexander Benjamin Craghead
LocoNotes/diesel spotters: Kenneth M. Ardinger
Markers/additional thoughts from your editors
On The Menu/railroad dining, art, and culture: James D. Porterfield
Parting Shot/Al Tillotson
Railnews/top news stories and photos from our readers
Railroadiana/new product, book, and video reviews
Scan Man/the world of railroad radio: Vincent Reh
Through My Lens/trackside memories: Kevin EuDaly
Timetable/railroad event listings submitted by our readers
Transit Currents/transit news: Bob Gallegos
---