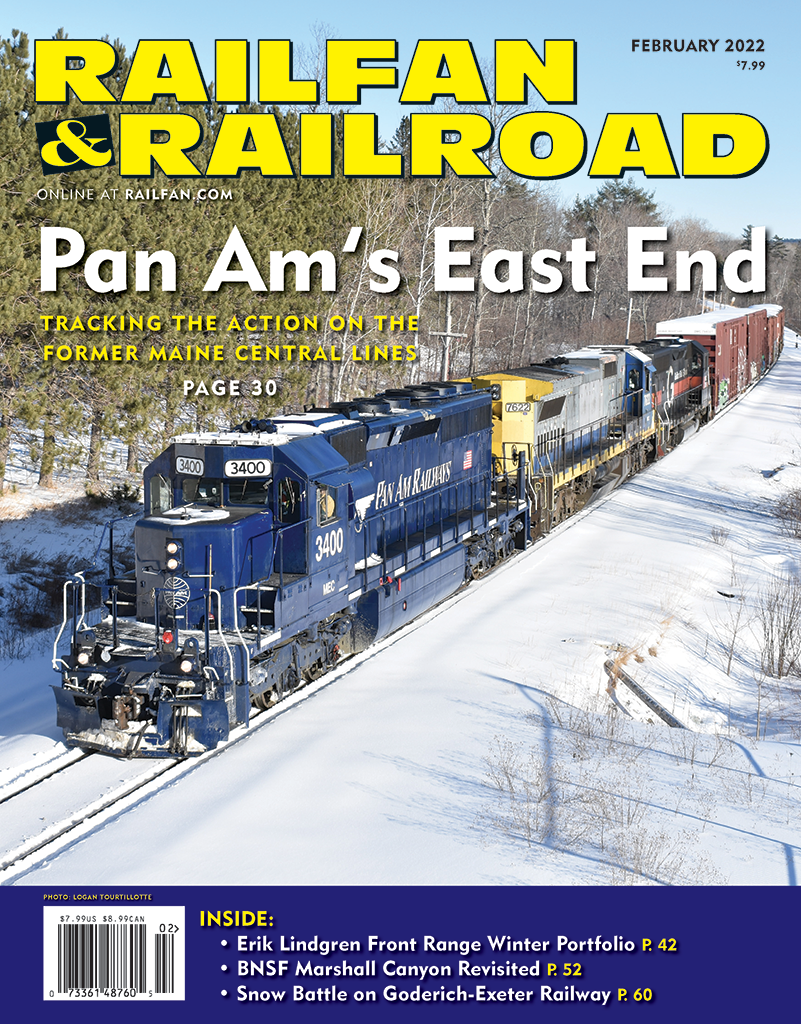 Railfan & Railroad February 2022
Features:
Pam Am's East End • by Logan Tourtillotte — Tracking the action on the former Maine Central lines from Bangor to Waterville.
Blue and Cream Debut • by David Baer — Tennessee Central Railway Museum comes one step closer to recreating an A-B-B-A set of Louisville & Nashville F-units.
Portfolio: Front Range Winter/ • by Erik C. Lindgren — Winter weather on Colorado's Front Range offers dramatic opportunities for photography along the former Rio Grande.
Marshall Canyon Revisited • by Steve Jessup — Chasing heavy freight traffic on a scenic 16-mile stretch of BNSF main line between Spokane and Cheney, Wash.
Snow Battle in Huron County • by Stephen Host — Goderich-Exeter Railway wages battle against Mother Nature to keep its southern Ontario main line open.
Departments:
Departures/commentary: Alexander Benjamin Craghead
High Iron/railroaders share their stories: Bob Plough
LocoNotes/diesel spotters: Kenneth M. Ardinger
Markers/additional thoughts from your editors
On The Menu/railroad dining, art, and culture: James D. Porterfield
Parting Shot/Jason Fields
Preservation Topics/this stuff is old, man: Otto M. Vondrak
Railnews/top news stories and photos from our readers
Railroadiana/new product, book, and video reviews
Through My Lens/trackside memories: Kevin EuDaly
Timetable/railroad event listings submitted by our readers
Transit Currents/transit news: Bob Gallegos
---