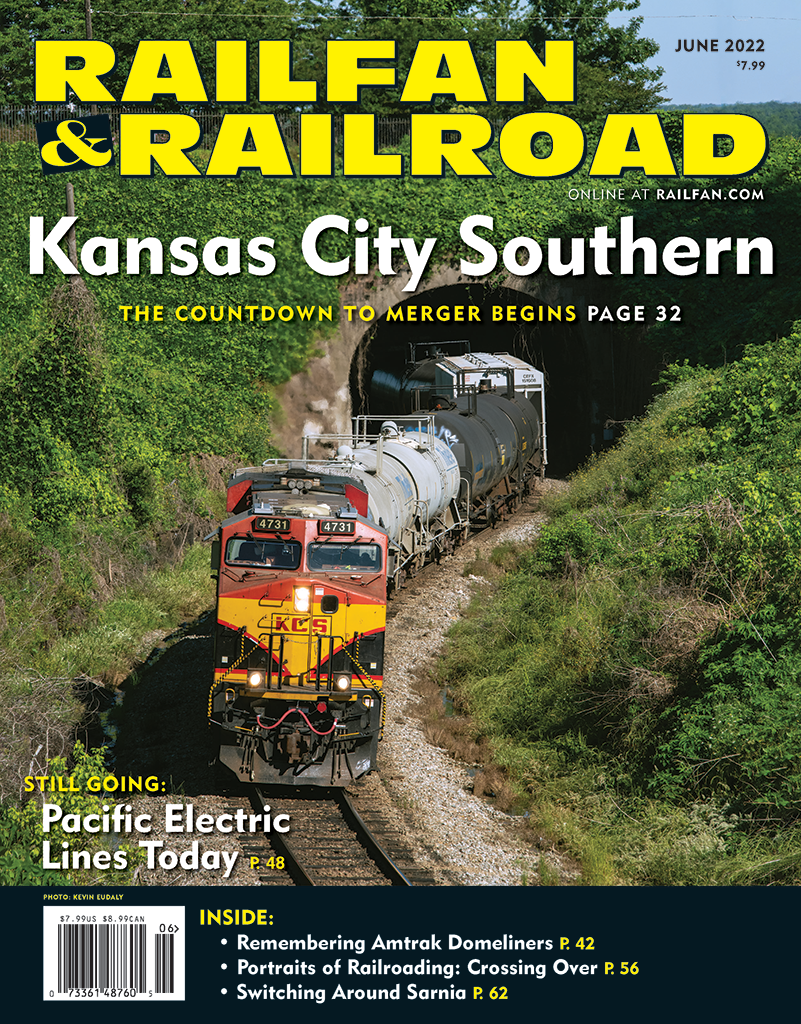 Railfan & Railroad June 2022
Features:
Kansas City Southern: The Clock Is Ticking • by Kevin EuDaly — With the impending Canadian Pacific merger, time is running out to capture pure KCS action.
Amtrak's Domeliner • by Ken Rattenne — The Coast Starlight closed out the era of steam-heated dome observation cars on Amtrak's western long-haul trains.
Ghosts of the Pacific Electric • by Charles Freericks — While the interurbans are long gone, a number of former PE lines remain in operation today for freight and passengers.
Portraits of Railroading • by James D. Porterfield — This survey of paintings and illustrations celebrates the monumental infrastructure of bridges, trestles, and viaducts.
Switching Around Sarnia • by Stephen Host — Sarnia, Ontario, is home to Class I action, as well as a number of short lines and private industrial operations.
Departments:
Business & Technology/modern railroading: David C. Lester
Collector Corner/collecting railroad history: Alex Gillman
Departures/commentary: Alexander Benjamin Craghead
LocoNotes/diesel spotters: Kenneth M. Ardinger
Markers/additional thoughts from your editors
On The Menu/railroad dining, art, and culture: James D. Porterfield
Parting Shot/Justin Franz
Railnews/top news stories and photos from our readers
Railroadiana/new product, book, and video reviews
Through My Lens/trackside memories: Kevin EuDaly
Timetable/railroad event listings submitted by our readers
Transit Currents/transit news: Bob Gallegos
---