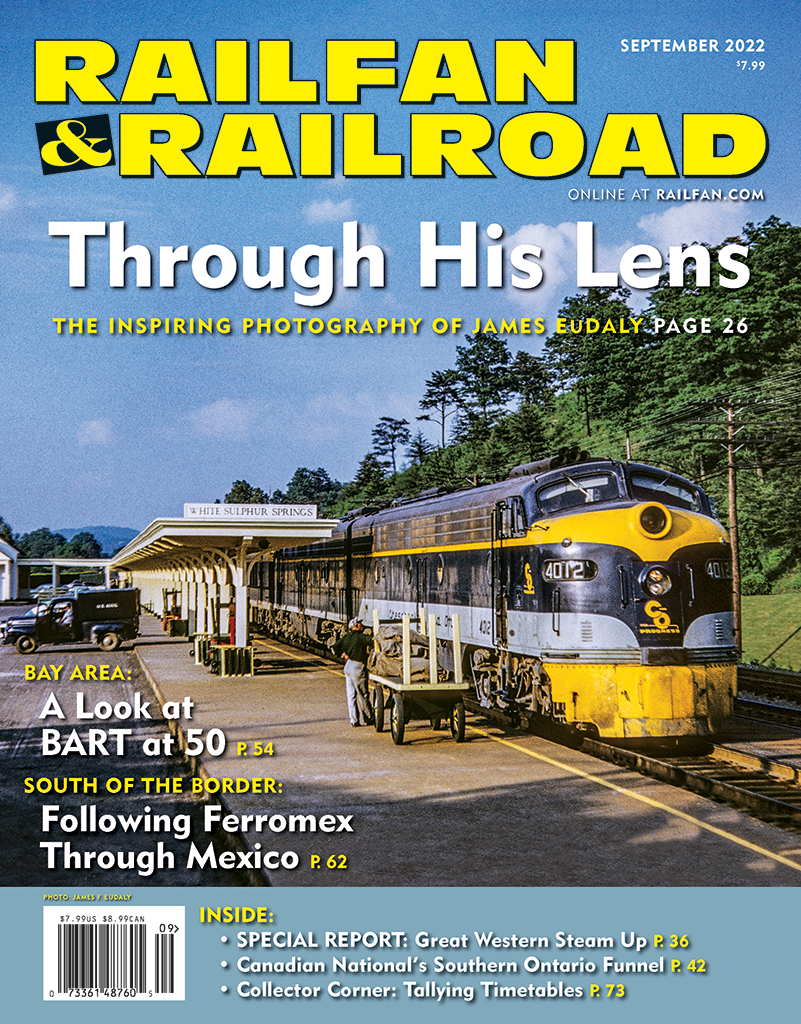 Railfan & Railroad September 2022
Features:
Dad • by Kevin EuDaly — Sharing the highlights of seven decades of inspirational photography and the special bond between father and son.
Great Western Steam Up • by Jeff Terry — Historic steam engines gathered in Carson City, Nev., to celebrate the 100th anniversary of Virginia & Truckee.
Southern Ontario's Funnel • by Marcus W. Stevens — Busy Bayview Junction is expanded to cope with increased freight and passenger traffic around Hamilton, Ont.
Revolution • by Greg McDonnell — Picking up a digital camera for the first time, and seeing old familiar scenes through a new creative tool.
BART at 50 • by Gordon Lloyd Jr. — Designed from the ground up, Bay Area Rapid Transit opened 50 years ago to connect transbay suburbs and city.
Exploring Ferromex • by Matt Sell with Trey Holland — For the adventurous railfan, a wide variety of operations and 62 motive power can be found south of the border in Mexico.
Departments:
Business & Technology/an analysis of railroading: David C. Lester
Collector Corner/railroad antiques and ephemera: Otto M. Vondrak
Departures/commentary: Alexander Benjamin Craghead
LocoNotes/diesel spotters: Kenneth M. Ardinger
Markers/additional thoughts from your editors
On The Menu/railroad dining, art, and culture: James D. Porterfield
Parting Shot/Michael Wilson
Railnews/top news stories and photos from our readers
Railroadiana/new product, book, and video reviews
Through My Lens/trackside memories: Kevin EuDaly
Timetable/railroad event listings submitted by our readers
Transit Currents/transit news: Bob Gallegos
---