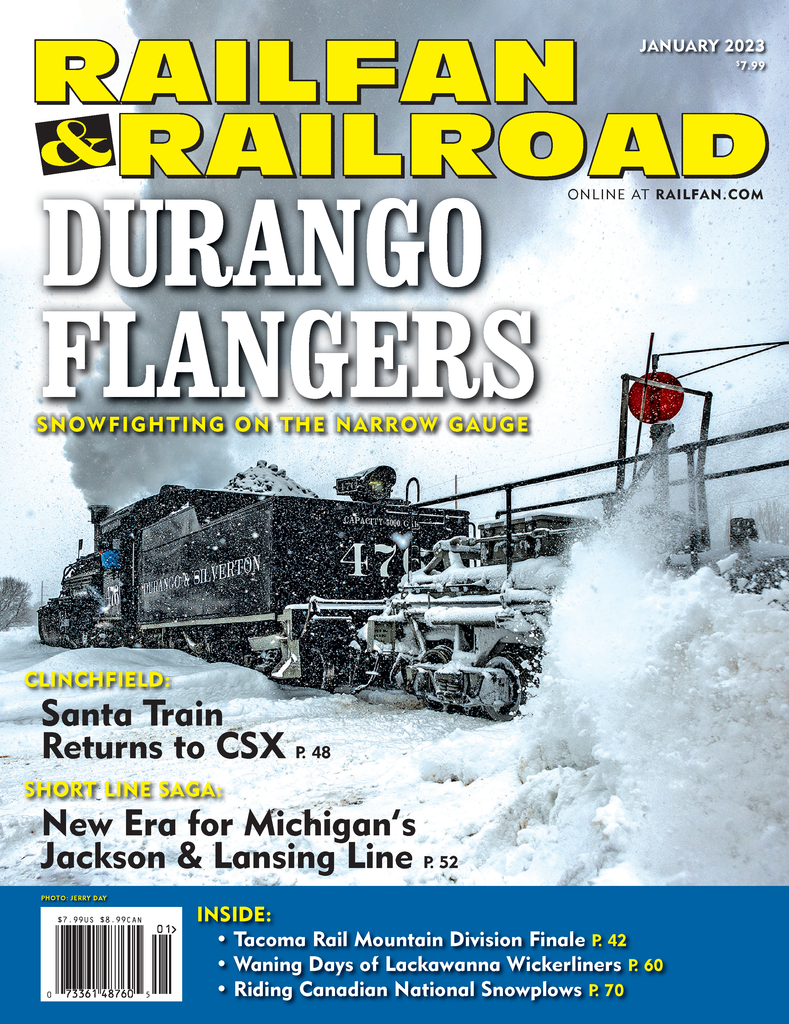 Railfan & Railroad January 2023
Features:
Durango Flangers • by Jerry Day — Up in the mountains of Colorado, Durango & Silverton flangers keep the narrow gauge lines open much like they have for the last hundred years.
Tacoma Rail Mountain Finale • by Nate Shedd — The end has come for this mountainous 132-mile former Milwaukee Road branch line operated by Tacoma Rail.
CSX Santa Train Returns • by Michael T. Burkhart — An 80-year tradition returns to Clinchfield country after a two year hiatus, spreading holiday cheer throughout the region.
New Era for Jackson & Lansing • by Drayton Blackgrove — This former Conrail secondary line in Michigan has seen a resurgence under new management looking to grow.
Waning Days of Wickerliners • by Charles Freericks — Finding comfort aboard Edison-era ex-Lackawanna cars as they rolled off their final miles in 1980s suburban New Jersey.
Port Bienville Railroad • by Mike Appleby — This busy short line celebrates 50 years of growth serving an important coastal Mississippi port facility.
Departments:
Camera Bag/tips and techniques: Elrond Lawrence
Departures/commentary: Alexander Benjamin Craghead
High Iron/railroaders share their stories: George Dutka
LocoNotes/diesel spotters: Kenneth M. Ardinger
Markers/additional thoughts from your editors
On The Menu/railroad dining, art, and culture: James D. Porterfield
Parting Shot/Steve Barry
Railnews/top news stories and photos from our readers
Railroadiana/new product, book, and video reviews
Through My Lens/trackside memories: Kevin EuDaly
Timetable/railroad event listings submitted by our readers
Transit Currents/transit news: Bob Gallegos
---