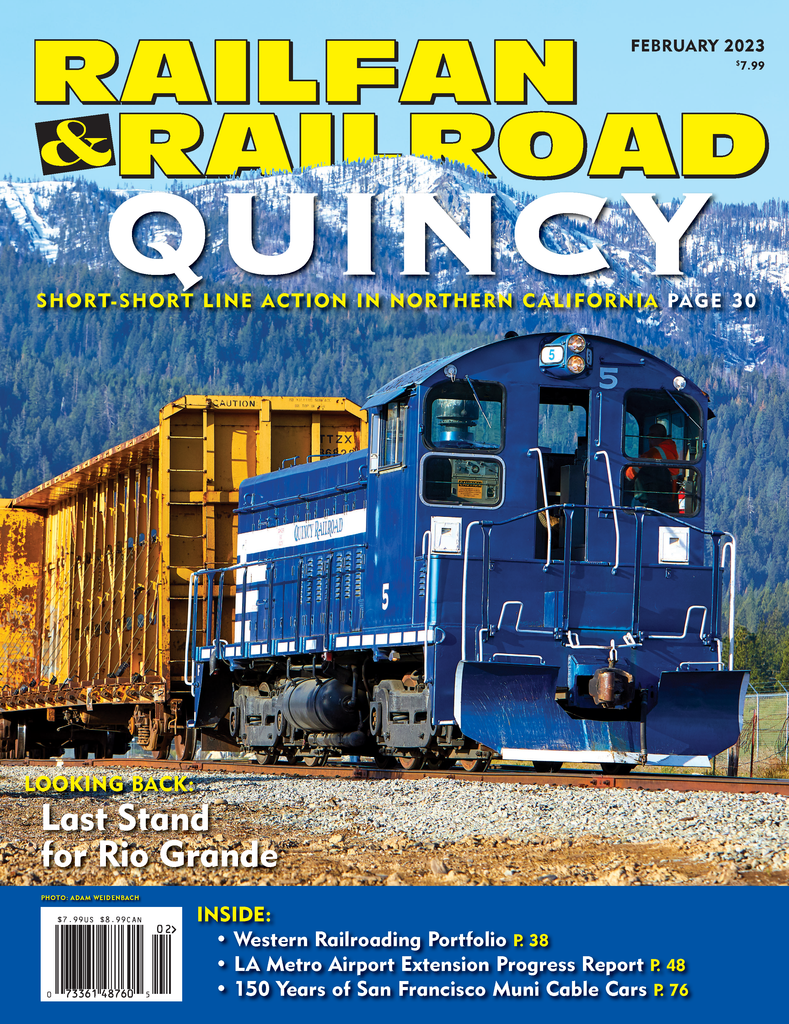 Railfan & Railroad February 2023
Features:
Quincy Railroad • by Adam Weidenbach — For more than 100 years, this tiny switching railroad in northern California has survived hauling finished lumber from mill to market.
Portfolio: Making Up for Lost Time • by Garry and Roz Miller — Thirty years of capturing dramatic scenes of railroading in the northwestern U.S. and Canada.
LA Metro to LAX • by Michael Sadovnick — LA Metro's newest light rail extension brings commuters within reach of one of the world's busiest airports.
Tales of a Lanky Texan • by Otto M. Vondrak — Founding editor Jim Boyd recalled restored Texas & Pacific 2-10-4 610's brief time in the spotlight in the late 1970s.
Last Stand for Rio Grande • by Carl Graves — There was one last gasp for Rio Grande's Aspen Gold and black as the Espee image began to take over in the 1990s.
Departments:
Departures/commentary: Alexander Benjamin Craghead
Destinations/interesting stops along the way: Justin Franz
LocoNotes/diesel spotters: Kenneth M. Ardinger
Markers/additional thoughts from your editors
On The Menu/railroad dining, art, and culture: James D. Porterfield
Parting Shot/Dan Kwarciany
Preservation/the world of railway preservation: Justin Franz
Railnews/top news stories and photos from our readers
Railroadiana/new product, book, and video reviews
Through My Lens/trackside memories: Kevin EuDaly
Timetable/railroad event listings submitted by our readers
Transit Currents/transit news: Bob Gallegos
---