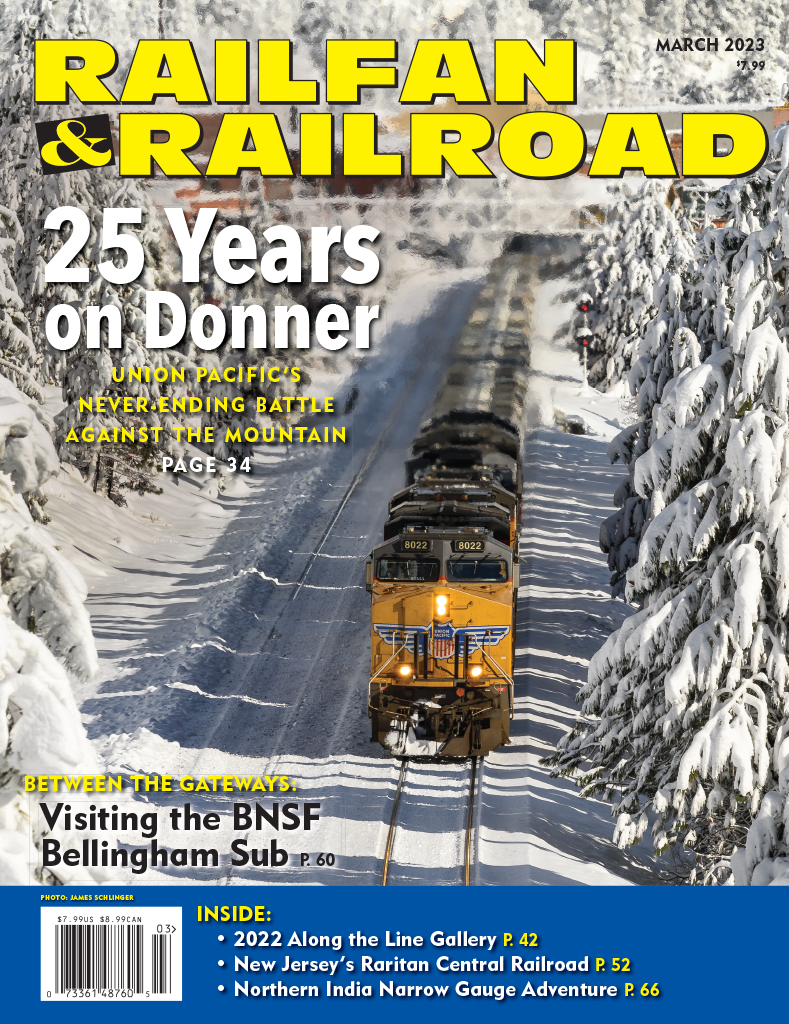 Railfan & Railroad March 2023
Features:
25 Years of UP on Donner Pass • by Dick Dorn and James Schlinger — Since Union Pacific absorbed Southern Pacific in 1996, the battle for the mountain pass over Donner has not relented.
Along the Line 2022 • From main lines to short lines and everything in between, our readers share their best trackside experiences from 2022.
Raritan Central • by Denis Connell — This busy switching railroad serves a suburban New Jersey industrial park located on a former Lehigh Valley branch line.
BNSF Bellingham Sub • by Ben Stainbrook — Running from Everett, Wash., north to the Canadian border, this secondary main features great Pacific Northwest scenery.
Northern India Narrow Gauge • by Ben Kletzer — Northern India is home to a network of narrow gauge lines, offering spectacular opportunities for the visiting railfan.
Departments:
Business & Technology/how it works: David C. Lester
Camera Bag/tips and techniques: Justin Franz
Departures/commentary: Alexander Benjamin Craghead
LocoNotes/diesel spotters: Kenneth M. Ardinger
Markers/additional thoughts from your editors
On The Menu/railroad dining, art, and culture: James D. Porterfield
Parting Shot/Adam Weidenbach
Preservation/the world of railway preservation: Otto M. Vondrak
Rail Technology/how it works: David C. Lester
Railnews/top news stories and photos from our readers
Railroadiana/new product, book, and video reviews
Through My Lens/trackside memories: Kevin EuDaly
Timetable/railroad event listings submitted by our readers
Transit Currents/transit news: Bob Gallegos
---