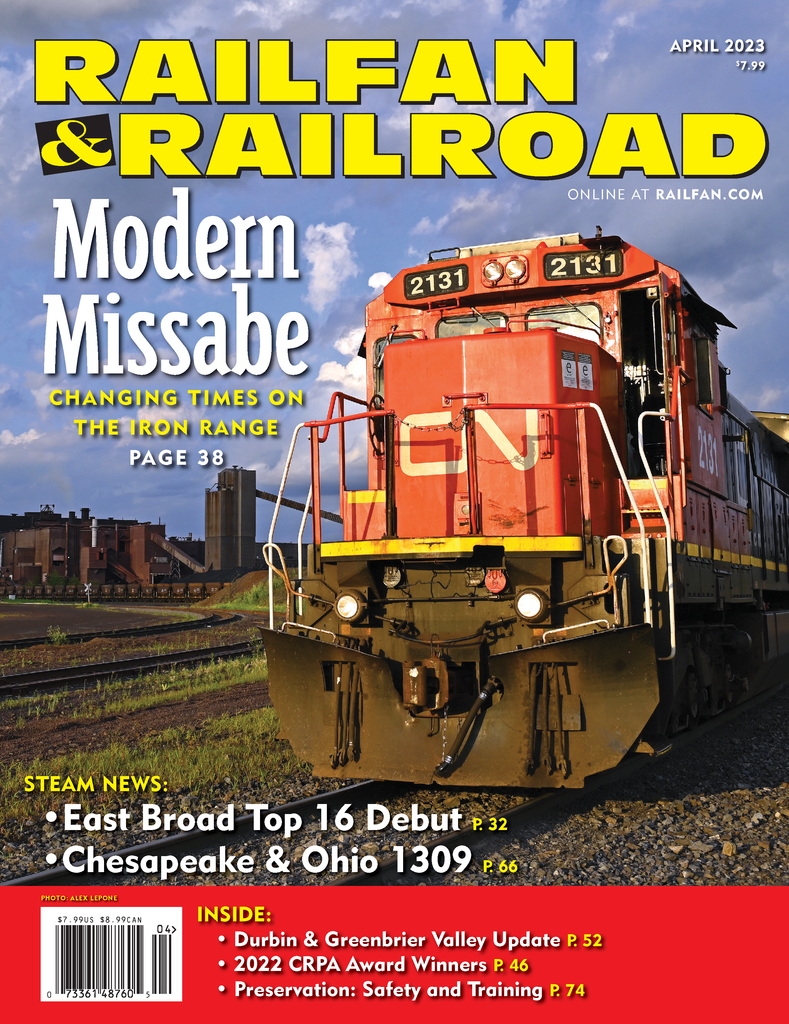 Railfan & Railroad April 2023
Features:
East Broad Top Winter Spectacular • by Michael T. Burkhart — Parked cold at the end of regular operations in 1956, 2-8-2 16 helps usher the return of steam to Pennsylvania's revived narrow gauge tourist line.
Modern Missabe • by Kevin Madsen — With new motive power, the face of Canadian National's Duluth, Missabe & Iron Range is about to change.
CRPA Creative Photography Awards — "Weather Effects" was the theme for the Center for Railroad Photography & Art's annual photography contest.
A Rocket, A Flyer, and Old Slobberface • by Eric Miller — With washouts repaired, tourist and freight operator Durbin & Greenbrier Valley Railroad is poised for growth in 2023.
Last Dance for Indiana SD90MACs • by Kelly Thompson — Last Dance for Indiana SD90MACs/Kelly Thompson After more than a decade of service, the sun is setting on Indiana Rail Road's fleet of unique EMD SD9043MACs.
C&O 1309 Comes Alive • by Steve Barry — Western Maryland Scenic 2-6-6-2 1309 was briefly restored 66 as Chesapeake & Ohio for a series of private charters.
Departments:
Departures/commentary: Alexander Benjamin Craghead
High Iron/railroaders share their stories: Tom Carver
LocoNotes/diesel spotters: Kenneth M. Ardinger
Markers/additional thoughts from your editors
On The Menu/railroad dining, art, and culture: James D. Porterfield
Parting Shot/Dave Blazejewski
Preservation/the world of railway preservation: Otto M. Vondrak
Railnews/top news stories and photos from our readers
Railroadiana/new product, book, and video reviews
Through My Lens/trackside memories: Kevin EuDaly
Timetable/railroad event listings submitted by our readers
Transit Currents/transit news: Bob Gallegos
---