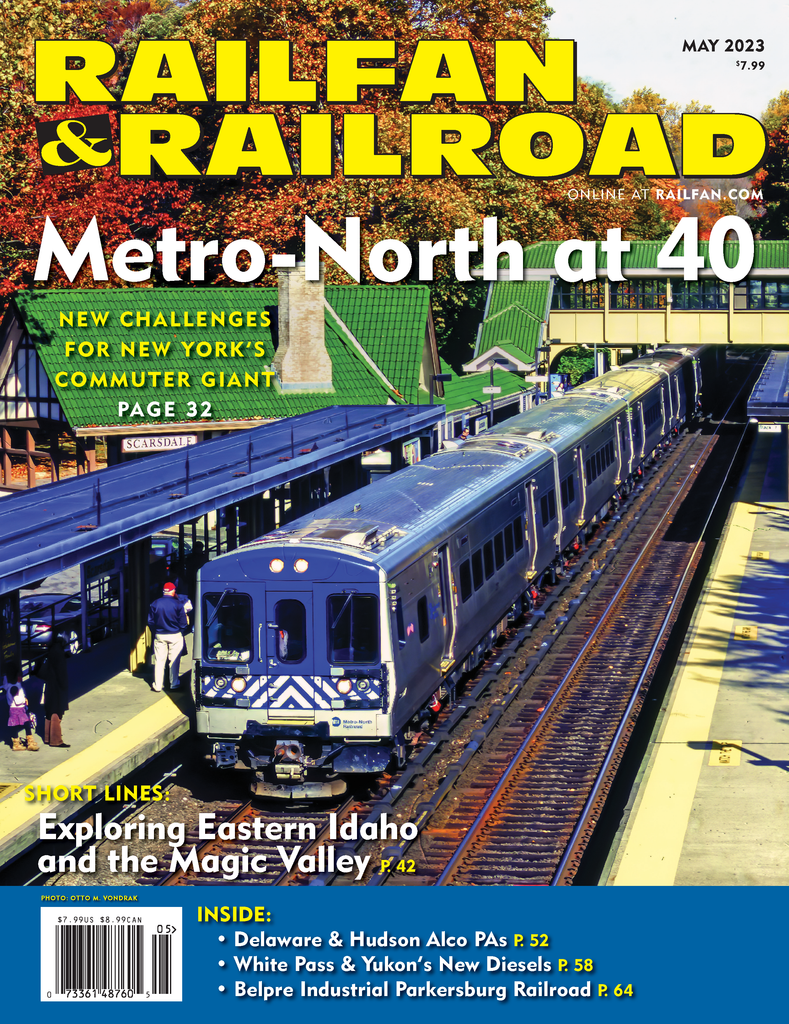 Railfan & Railroad May 2023
Features:
Metro-North at 40 • by Otto M. Vondrak — Approaching middle age, the venerable commuter railroad faces some new challenges with reduced ridership in the wake of a post-pandemic world.
Eastern Idaho • by James R. Doughty — This busy short line features an all-EMD roster serving small farming towns in the Magic Valley of southern Idaho.
A Decade of D&H Alco PAs • by Otto M. Vondrak — The arrival of four Alco PAs in 1967 ushered in a decade of colorful Delaware & Hudson passenger operations.
White Pass in Transition • by Gordon Lloyd Jr. — With new management come new diesels to replace White Pass & Yukon's fleet of vintage GE and Alco units.
From B&O to BIP • by Isaac Miller — This ex-Baltimore & Ohio line in West Virginia has been transformed into Belpre Industrial Parkersburg Railroad.
Departments:
Camera Bag/tips and techniques: Justin Franz
Collector Corner/railroad antiques and ephemera: Alexander D. Mitchell IV
Departures/commentary: Alexander Benjamin Craghead
LocoNotes/diesel spotters: Kenneth M. Ardinger
Markers/additional thoughts from your editors
On The Menu/railroad dining, art, and culture: James D. Porterfield
Parting Shot/Matthew Robson
Railnews/top news stories and photos from our readers
Railroadiana/new product, book, and video reviews
Through My Lens/trackside memories: Kevin EuDaly
Timetable/railroad event listings submitted by our readers
Transit Currents/transit news: Bob Gallegos
---