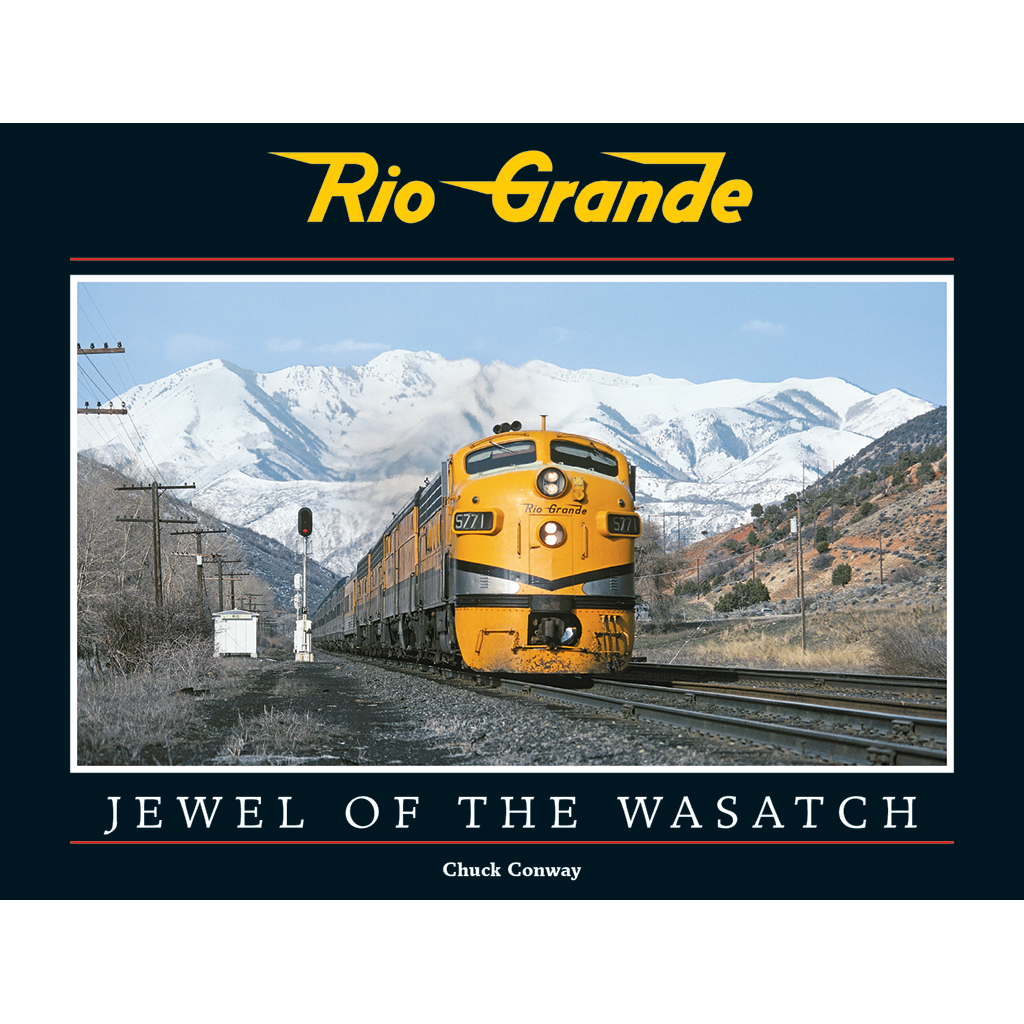 Rio Grande: Jewel of the Wasatch
This third volume covering the Denver & Rio Grande Western in the era of color photography examines the origins and ultimate demise of the D&RGW¹s Utah Division between Grand Junction, Colorado, and Ogden, Utah. Built by the same General Palmer who had contributed so much to the early Denver & Rio Grande in Colorado, the line across the eastern Utah desert to the Wasatch Front never had large precious mineral deposits as the siren song attraction for railroad construction. This road would rely on the more mundane carloads of coal, iron ore, and copper as its early mainstay.
Following the merger of the Utah and Colorado lines in 1908, the company began focusing on upgrading its property and soliciting traffic from far beyond the borders of its two home states. This transcontinental traffic, along with the burgeoning coal business developed after World War II, would make the D&RGW a successful and profitable property, despite being surrounded by much larger, often unfriendly carriers. A portion of the Utah Division¹s history is noted in the coverage of the remnants of D&RGW¹s far-flung narrow-gauge empire in Colorado. But the real story lies west of Grand Junction, where merchandise, lumber products, perishables and piggyback shipments were added to the area¹s considerable mineral traffic and the few remaining passenger trains operated during the latter years of D&RGW ownership.
As with many enterprises, circumstances are always changing and despite its own good management and customer-oriented operations, the D&RGW was not always in control of its own fate. One by one the needed connections were eliminated until the D&RGW was forced to cast its lot with a weakened Southern Pacific. This would prove to be a short-lived partnership and as the 20th century drew to a close, new owner Union Pacific finally got its wish of killing off the D&RGW once and for all. Today, some of the lines covered in this volume see no UP trains at all on a regular basis, but the pictures and stories herein provide a look back to better days, when the Rio Grande was indeed the Jewel of the Wasatch.
Contents:
Chapter 1: Great Salt Lake Route
Chapter 2: Grand Junction
Chapter 3: Colorado Branches
Chapter 4: The Desert
Chapter 5: Soldier Summit
Chapter 6: The Wasatch Front
Chapter 7: Utah Branches
---